Tips On How To Optimize B2B Marketplace Listing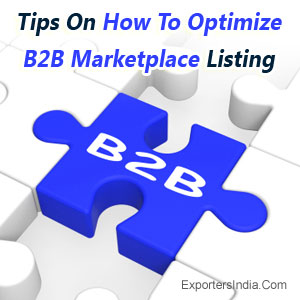 With this being the age of tech savvy consumers, there is no surprise over the fact that business has also gone online. Rather than the traditional brick-and-mortar shops, the focus is more on online marketplaces. The online B2B marketplace is a virtual marketplace where buyers & sellers meet & carry out online trade. Such online portals create a profile page for any particular business & list the products/services, & rest of the relevant details there. Hence, buyers & sellers can browse through each other's profiles & decide with whom to conduct business. To attract customers, it is essential to optimize B2B marketplace listing. Tips On How To Optimize B2B Marketplace Listing
The content displayed on the profile should be engaging & well developed. It should appeal to the interest of the visitors. This is one of the most essential ways of optimizing the B2B Marketplace Listing. Since the space available will be limited, it would require a lot of creativity to fit all the relevant content without overcrowding.

Besides an appealing content, other important things include the price as well as the call to action. The pricing should be listed so that it is easily visible; after all it does play a crucial role in affecting the buying decision. Once the attractive profile & well developed content has managed to engage the customers, it is important to have a strong call to action.

There should be some value that is being provided by the company to the visitor that will motivate him/her to make the ultimate buying decision. This could in the form of discounts or attractive Deals. Or it could be the latest products that are being offered to the customers.

Yet another key to an Optimized B2B Marketplace Listing is to feature the accreditations & certifications that the company has on the page. This will establish the credibility of the company & will go a long way in earning a potential customer's trust.
With these tips, it can be ensured that the B2B marketplace listing of one's company is highly optimized & effective in attracting more & more customers.
Category Tags