Tips to Promote Advertising Campaigns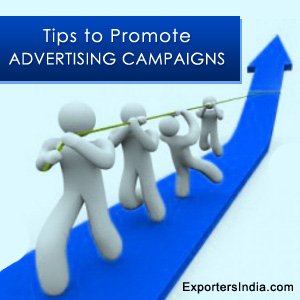 Advertising Campaigns have become an inseparable part of the marketing strategies that companies adopt for creating brand awareness. The impact of advertising on masses is so strong that the brands which do not promote themselves are assumed to be less credible. The term Advertising Campaign can be defined as the promotional strategies and plans of a company to instill a recall value of their brand in the target audience. Emergence of various Advertising companies indicates the significance of advertising in the modern scenario. All modes of mass communication are flooded with advertisements for a specific period of time.
Whether it is through Radio, Television or Newspaper- Every company wants to promote its brand optimally through each medium of mass communication. Tough competition in this field has prompted the creative heads of Advertising Companies to come up with innovative ideas. Following are the latest trends in advertising mediums:
Newspaper- Instead of buying a small space, which has chances of going unnoticed, companies prefer buying the entire page of the newspaper. Some companies also pay newspapers to print 'Advertorials' for their products.
Radio- Apart from regular radio commercial, companies are promoting their brands by arranging interviews with celebrities who endorse their products.
Television- The story-telling advertising commercials keep on ruling the advertising scenario. However, some companies have come up with the smart idea of promoting their brand on news channels. For this, they produce and telecast promotional shows that seem like regular news programs.
New Media: Internet has revolutionized the advertising scenario the world over with its multimedia element. Internet is the most commonly used mode of communication, particularly in the developed regions. Thus, companies have come up with innovative ideas of Internet marketing for ensuring the success of their Advertising campaign. Successful internet marketing requires proper usage of Search Engine Optimization techniques that increase the visibility of the brand. Consequently, the end user gets to know more about the offerings of a company.
The key to a successful Advertising Campaign lies in effective implementation of promotional strategies in the right mediums. Accurate integration of relevant modes of mass communication is also necessary.
Category Tags
1 thoughts on "Tips to Promote Advertising Campaigns"