To Go Or Not To Go Digital: Decoding A B2B Buyer Persona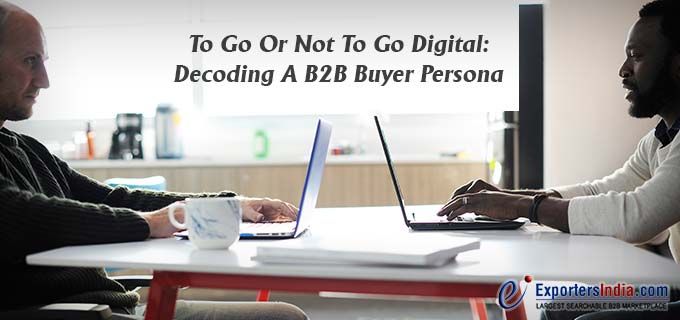 A lot has changed with time in the B2B e-commerce ecosystem. While the vendors have become more attentive to the buyer needs, the B2B buyer has grown more demanding and complicated. To understand the changing dynamics of digitized B2B sales, it is indispensable to decipher how the mind of a modern B2B buyer works. Decoding of a B2B buyer persona holds great importance for a B2B vendor, especially when it comes to increasing digital sales. This not only helps them comprehend what drives the present buyers into making a digital purchase but also exposes the reasons that push them away. This write-up is a breakup of the way a B2B buyer's mind works and what drives them on or off while making their digital purchase decisions.
B2B Buyer Prefers Digital Medium To Perform Online Research
According to a research report by Accenture, 94% of the B2B buyers have admitted performing an online research before making any type of digital buying decision. The ease of internet on the handy mobile device has empowered today's digital buyer to perform any type of research about the product, service or even the vendor before making any decision. They rely on a number of online sources to make this decision. Be it a website, review sites, vendor site, Q/A forums, social media pages or any other online source, a B2B buyer finding ease in performing an online research before making any type of purchase decision.
B2B Buyer Is Attentive To The Peer Reviews And Recommendations
Decoding the present B2B buyer persona is not an easy task. While most of them prefer performing an online research before making any type of buying decision, they also consider the peer review and recommendations while performing any purchase. Recommendations and reviews about nearly everything are available online today and the B2B buyer is leveraging these resources to get detailed information. The content created by other B2B buyers plays a huge role in encouraging the buyer to move on with the buying process. Moreover, word-of-mouth recommendations are mostly trusted by the B2B buyers. In fact, this type of recommendation beats all other recommendation channels.
B2B Buyer's Decisions Are Largely Affected By The Vendor's Content
The content published by the vendors on their website or other sources about the product or service they provide plays a very crucial role in the buyers' purchase decision. They want as much information as possible while researching about a product. The more informative and detailed content the vendors would provide online the faster would be the digital buying decision of the B2B buyer. In fact, a report by DemandGen concluded that 95% of the B2B buyers choose a vendor who has offered a large amount of informative and valuable content to them.
B2B Buyer Is Agitated Because Of The Vendor's Slow Responses
The primary reason why the B2B buyers are hesitating from making an online purchase is the slow response time that they face. A B2B buyer would obviously have a number of questions and queries regarding the product, service, price, quality or quantity. They want to get a quick reply from the vendors' end when they post their questions on the site. The excess time taken by the vendors to revert to the queries of the buyers is driving off most of them. Moreover, this is the reason why a majority of B2B buyers, 76% to be precise, find talking to a sales representative or spokesperson of great help while making a digital purchase.
This happens especially when they are making a first time purchase. For the repeat customers, the number of B2B buyers wanting to speak with a salesperson declines. In order to get more leads and encourage successful digital purchase, it is crucial that quick response should be made a priority by the vendors.
Change is the only constant and the modern B2B buyer has undergone that change. He/she is giving more attention to the information available online before making any type of buying decision. They are out there online and want the vendors to be available for them with quick responses. If the B2B vendors want to increase their digital sale of products or services, it is imperative that they understand the modern B2B buyer persona and cater all the needs that he/she might have.
Category Tags