Trade Show Marketing Tips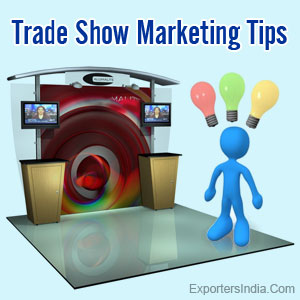 Companies that want to reach a huge number of potential customers, under one roof, participate in public or private trade shows. Trade shows give a platform to companies to demonstrate new products and examine the ongoing trends in the industry. Trade shows and other event marketing, being a large investment to participate in, need to be tackled wisely. Here, we have jotted down few points with which you can attain huge return on investment by exhibiting at trade shows: -
No Unidirectional Loom: You must take multi-faceted approaches in pre-tradeshow marketing so as to ensure positive outcomes from the tradeshows.
Give Invitations: The companies who desire to surpass the competition are required to undertake marketing before the tradeshow starts. The pre-tradeshow marketing can be done through mails to make customers aware about the business, offerings and presence in tradeshow.
List Your Audience: In order to know more about the attendees, a brief conversation must be held with the tradeshow organizers. Consequently, make a list of your target audience and try to attend them during the show.
Creativity Speaks In Volume: Think of a distinctive and innovative approach or idea to promote the products or services offered by your company.
Graphically Attract Them: Make sure the graphics on your booth get the attention of trade show visitors. Create a catchy tagline that explains your audience what you do and place the same with your logo.
Whether your tradeshows are a wild success or a wipeout for your business depends entirely on your advance preparation. Get the best return on investment from the trade shows you exhibit at with these tips on trade show marketing. The above mentioned tips will certainly help you to turn the heads of visitors at your stall, and likely to make them interested in your offerings.
Category Tags