Traits of Reliable Freight Forwarders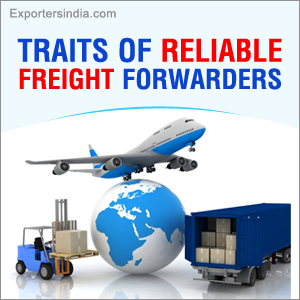 Freight forwarding is a very technical and a way too demanding job. This job is apt for someone who has great network, extensive experience and comprehensive knowledge of international trade, transport, export, customs and global marketing functions. When you are selecting a Freight Forwarder there are a number of questions that need to be answered first. For example, is the company big enough for logistics management of large scale, will it be possible to track real time visibility of the shipment, is the company a custom broker also and many more. You need to choose a freight forwarder that can fulfill all these criteria in the most cost-efficient way.
Traits that you should look for in a Freight Forwarder
The agent should be quick enough in delivering the consignments safely at the appointed time to its destination port.

The forwarder must be inexpensive. It is not wise to hire someone who charges too much which will eventually jeopardize the financial status of your business. There are many proficient specialists who are willing to provide excellent service at an optimum cost.

The freight forwarder should be smart enough to submit a detailed proposal with judicious estimates. This format will include all conditions and terms that proves beneficial to both parties.

The agents should have far-stretched connections both locally and globally. The network should extend to air freight providers, shipping firms, customs brokers, land transport companies, and other industries as well. The forwarder should also have the knowledge of warehouse facilities worldwide.

Adequate knowledge of the industry is something that should not be compromised with. Mistakes and delays are ought to be avoided. This is where the reliability of the freight forwarder is needed.

Product expertise is an essential factor as well. This could be a specific sector such as automotive, food or cargo. The agent's core responsibility is to ensure that the consignments are kept safely during the conveyance process and also when it reaches the destination.
The freight forwarder should make the whole process of shipment convenient for entrepreneurs as that is the sole reason they are hired for. The logistics, procedures and legality of exporting goods involved are intricate and therefore selecting the reliable and highly efficient freight forwarder becomes a necessity. The forwarder can be an individual agent of a company. The functions of forwarders also include facilitating documentation and conditions of delivery to clients. The forwarder thus becomes the official representative of the exporter or importer in all areas of shipment. Look out for competent agents with proven skills and positive tributes in this kind of work.
Category Tags
1 thoughts on "Traits of Reliable Freight Forwarders"
Thanks for sharing all those points to look into a freight forwarder. I never looked into so many things before and as I result I had some bad experiences but now, I will try to look into things much more.