Use Of Documents In Import And Export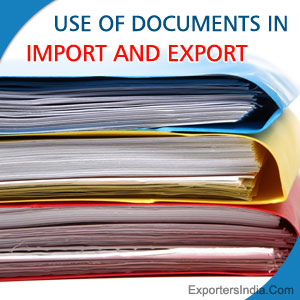 Every business transaction these days requires its goods and services to cross national shores, as there has been a rapid development in international trade in recent times and the world has shrunk into a global village. A routine activity for many businesses, Import and export is very essential for consumers. If you are a first-timer in Import/Export Trading, the checklist below would assist you. When it comes to import and export transactions, the importance of paperwork done correctly is paramount. A vital aspect of international trade is documentation and plenty of it needs to be dealt with. Although, in order to complete an import and export transaction, the required documents vary from country to country but generally, they comprise the following:
1.Purchase order: Basically, a business requirement, but may also be needed by the buyer or seller for arrangement of finances.
2.Letter of credit: A Letter of credit is necessary to make payments for goods that are being imported.
3.Shipment documents: As a proof of dispatch, a bill of lading is required in case of sea shipments. In case the goods are being transported by plane, an airway bill is needed.
4.Certificates of origin: The volume of business that can be done with other countries is restricted by some countries. Goods from specific supply sources may be accorded tariff benefits. For this, a Certificate of Origin needs to be submitted by the exporter, which the Chamber of Commerce or a designated regulatory authority endorses.
5.Quality or inspection certificates: If prior to the shipment, an inspection is specified by the buyer, he would surely want to see its proof on paper.
6.Packing list: One needs to have some clue regarding the contents of different cartons that have arrived as shipments.
7. Invoice: This should be made absolutely certain that all transaction details have been noted down correctly, including the currency used for transaction. This list is not at all extensive even though it might seem to be a long one. So, it becomes mandatory hiring someone, who has an understanding of import and export documentation so that your international business proceeds without any glitches.
Category Tags
1 thoughts on "Use Of Documents In Import And Export"