Want to Start Import/Export Business? Here Is a Complete Guide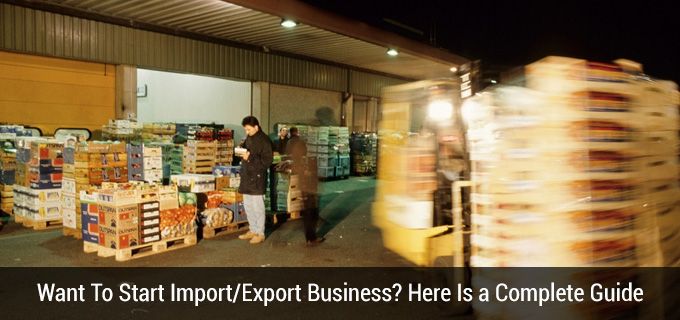 Introduction
In a business, you are your own boss! How well do you agree with this statement? If you are a kind of person who is calculative and clever enough to understand how the market works then starting a business is the best option for you. And, in case you have fewer funds, but a great potential, then you must go for import/export business which requires less capital and returns huge profit. But starting an import/export business is not as easy as said. There are various things that should be kept in mind. Before getting started, you must ask following questions to yourself:
1) Why Did You Choose Import/Export Business?
This is the most important question that you should ask yourself before getting started. Once you have made sure that this is the field you want to excel in, nothing can stop you. There are various factors which will interest you to start this business. Unlike other business, Import/export business does not require an office space; in fact, it can be started with a telephone call. But along with this, you would need a file system, business cards and a machine to answer the phone calls. Once these things are checked, you would now be required to make a website for our business which would include your logo, your business profile and your contact details.
2) Do You Have Enough Contacts To Start With It?
Since, you have just started with it; you will not have a lot of relevant contacts with you. What you need to do now is to find and extract contacts from your relatives, acquaintances or from a known entrepreneur. There is one more way to build your contacts which is through the Chambers of Commerce which is there in every city. It is okay if you do not have prior experience because what this business requires most is the will and determination to continue to move forward and collect as much experience as possible to glitter among the other businessmen in the market.
3) Who Will Be Your Target Customers?
This is quite an important factor on which your sales and profits would depend. Either you follow your gut feeling or the best option to find it out is by contacting the sellers of respective market and doing a research on what is being demanded more in the market. Send e-mail to the collected contacts introducing your business profile and wait for their reply. On the basis of their reply, send them another email asking about their preferences and what exactly do they want to sell in the market. A person who is well-informed and aware of the contemporary trends can definitely flourish in this business and can make a huge profit out of it.
4) Where Will You Get The Goods From?
After having collected all the required information, now comes the question of procurement of goods. You should be confident enough while convincing the manufacturer to make you as their only export agent. You have the contacts, paperwork, shipping details, money which you will provide to the manufacturer. In return, the manufacturer will provide you quotations along with his fees. A manufacturer is a person who helps you in establishing your business so make sure that there is no room for any kind of glitch while dealing with them. To start with, make the local manufacturers your target. Make sure that you check his background and the companies that he deals with to check his goodwill and reputation with other companies.
5) Do You Have Enough Funds? If No, How Do You Plan To Manage It?
You now have the information, you know which products you want to start with but do you have enough funds to purchase them? To make sure a continuous cash flow, you need to build healthy relationship with a local bank nearby your area or somewhere else, whichever is more reachable. This is one of the most beneficial factors of doing import/export business as you would never need a personal cash outlay. Your bank will take care of it. But make sure that you maintain a good reputation with the bank for an uninterrupted cash flow. Apart from cash, your banker will also suggest you best deals and offers to opt for. It will also help you to publicize your name by distributing booklets and pamphlets to its customers.
6) What Will Be Your Terms Of Shipping?
Once you would observe the methods and criteria of other importers/exporters, you will become more familiar with the terms of shipping which are used in the process of quotation of prices and delivering goods. This will be done with the help of freight forwarder, a person who will be responsible for various steps involved in shipping the merchandise. Along with this, he will quote shipping rates and provide routing information. Next, there will be a bill of lading which is a receipt for the goods shipped which will then be signed by the shipping agent or by a common carrier assuring the buyer with the quality of goods delivered, in the same condition as they were sent in.
Conclusion:
You were worried that how and where would you collect the information to start an Import/Export business? I feel that we have just made it a bit simple for you. Once you have understood them all, you are just ready to get started!
Category Tags
2 thoughts on "Want to Start Import/Export Business? Here Is a Complete Guide"
Nice blog here! Also your site loads up very fast. I like the article Start import business

These are great tips for everyone who wants to engage in import-export business. dealing business in and out the overseas is not easy. It requires good management and this article is a great start up.