Why List With An Online Business Directory?
A business is never successful until unless it is promoted well. Business promotion today, has explored new dimensions by venturing into various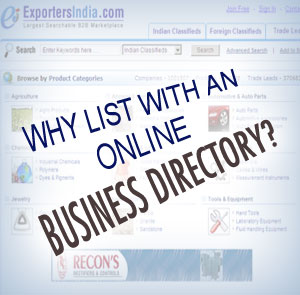 new online and offline strategies. With the emerging trend of online business, it has become almost mandatory to have your business presence on the internet. Online Business Directory are the easiest and sure shot way to effective promotion on the World Wide Web.
What is a Business Directory?
A business directory is just like Yellow Pages that carry the addresses and phone numbers of endless businesses categorized under different sections.
Online business directories are divided into various categories or lists. Each list carries details and other relevant business information that eases the visitor to search for his required product or service. Businesses from all parts of the world register themselves on these directories and thus connect to other businesses and customers on this effectual platform.
If you are running an online or offline (brick & mortar business) and are not part of any business listing then for sure you are losing out on countless opportunities. Here are some points that will let you know as to why you should opt for online business directories.
Why opt for business directories?
Cost effective:
These online business directories are the most cost-effective way of promoting a business. In comparison to advertisements, these listings cost very less and at the same time reach to wider audience.
Saves on Time:
As these directories are categorized, it saves a lot of time of the user. E.g. if a buyer is looking out for raw materials for his garment factory then he will straight away search in the fabrics or threads section and choose the best deal.
Free Ads:
These online directories offer various attractive deals or packages in which along with the listing your business is advertised for free through banner ads etc.
Wider Expanse:
Listing with these directories automatically offers your business a wide exposure thereby bringing in more and more business opportunities.
Thus, by now you must have come to know that the online business directories are the key to successful business promotion. These are the gateways through which customers from all across the globe get connected to you. So, why wait then simply choose a trusted and popular business directory- list yourself in the suitable category- enjoy more business opportunities. We wish you happy trading.
Category Tags
4 thoughts on "Why List With An Online Business Directory?"