Why Most B2B Sites Fail to Convert Sales Leads
Websites are created by the businesses in order to attain a strong web presence and maximum exposure in the market. B2B sites are solely created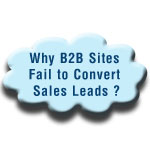 to generate more leads and business. But the entrepreneurs have a misconception that all the visitors on their site are buyers. It is not true; a visitor can come to collect some information or to know about your company. As the important information is always kept in lock and key so the visitors leave the site without getting the information. A lost visitor might have been a prospective buyer. So, in that case a company tends to suffer a loss.
We provide you some of the reasons why B2B sites fail to convert Sales leads into customers. You simply have to avoid these on your site in order to get better sales.
Sites offering registrations for downloading articles, studies, etc. looses a great number of prospective leads.

The main content of the site like brochure, success studies, case studies, etc. that interest the visitors are not displayed on the main page but rather somewhere on the later pages. The visitor might not find the other pages interesting and leave the site.
What companies should do to retain these leads?
Here are some points that if followed by a company can surely help them retain visitors on their B2B site.
Rather than asking for complete registrations, the visitors should only be asked their Email addresses. Later their name and phone number can be asked.

The informative and thought provoking content that is added on the site must act as lead generation tool. Also, it should be easily accessed by the visitors.

The content that is written for promotional purpose and is capable of attracting customers should be made available to them at the early stages of buying.
Thus following the above mentioned ways, can help a company convert its sales leads into customers and have a lucrative business.
Category Tags
2 thoughts on "Why Most B2B Sites Fail to Convert Sales Leads"
Very Useful & Informative blog post.

this is an extremely excellent blog about B2B.