Why To Get Listed With A B2B Portal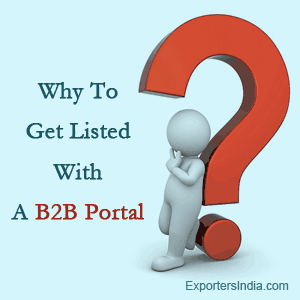 E-commerce has flourished in the last few years and B2B Portals have served as effective platforms for the different businesses online. Business to Business portals offer an operative podia and help in promoting one's business on a greater scale. These provide better visibility and help in improving interactions between the traders. Getting listed on a well reputed portal is always a good option for promoting one's business online as it secures a large customer base through direct interactions with the buyers and sellers. Here are some of the advantages of being listed on a B2B portal:
Community Interaction On a B2B portal thousands of buyers and sellers are listed. The traders therefore get an effective platform for interacting with the members of different trade communities. Community interactions solve multiple purposes. For instance, a manufacturer listed with a B2B portal can get vendors for procurement of raw materials as well as buyers for the finished products. It gives an easy way to interact with traders having the same nature of business.
Online Visibility Online visibility is an important factor, which most of the businesses strive for. On getting your name listed with a web portal you get visibility on the internet, which gives a global dimension to your business. Be it a small scale or a large scale business, internet enables one's business to be known to a greater audience thus bringing in more trade.
Trade Leads Manufacturers and suppliers are always on the lookout for prospective buyers. Getting your name listed on the B2B portal fetches a lot of enquiries which help in increasing the sales. The buyers can directly send enquiry to the manufacturer of the product in which they are interested.
Simplified Sales And Purchase Challenges The sales and purchase challenges faced in traditional businesses are altogether eliminated in this as there are no hassles of physical presence or searching for buyer and seller manually and transactions can be made in a fast, economical, safe and easy way.
Business-Across The Borders And Languages Internet and the B2B portals provide the opportunity to take one's business across the borders in a hassle free manner and a short span of time.
Fast, Easy And Always Accessible B2B portals provide a fast and easy platform which can be accessed 24x7 across day and night. One can access the website at any time of the day or night and place orders.
Easy To Operate & Modify Easy operations and modifications have made B2B portals all the more popular with the traders. The information or enquiries can be easily placed as well as modified to suit the requirements.
Thus, in the digital era, the bet option to promote one's business and give it global dimension is to get listed on a B2B portal, which can promote your business well and help it in surviving the ever-increasing competition.
Category Tags
1 thoughts on "Why To Get Listed With A B2B Portal"