Why Your Start-up Needs B2B Model And How To Begin?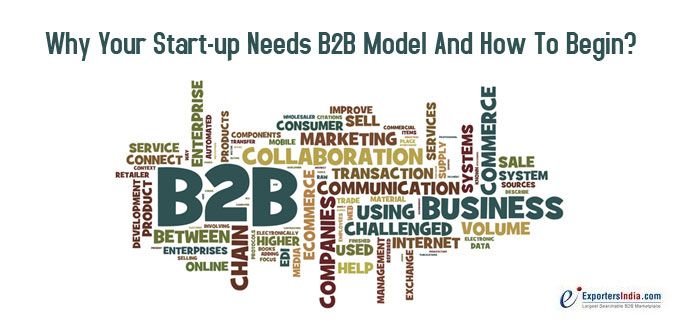 Do you want to start your own business? If the answer is yes, then starting a business that grows by helping the other businesses is worth giving a try. B2B model for start-ups might not appear the easy way out; however, the returns can pay the business back heavily. With a bit of right guidance and capital in place, start-ups can easily make it large in the B2B market. And the reasons for the same are as follows:
Less Competition
Look around and you will find a myriad of start-ups that deal in B2C. If you are planning to start a consumer-serving venture, be prepared for the heavy competition that will follow. While, the B2B industry is still ruled by a few companies that are in the market since years; the customers are seeking for new offers that could fulfill their needs reasonably.
Real Business
Unlike the B2C culture, the B2B market practices are quite straightforward. The profits are a result of what businesses offer. If you are offering value to the customer and solving their business problems, then there is perhaps nothing that could stop you from making it big in the B2B marketplace.
Market Is Looking For Innovation
As I mentioned earlier, the B2B market is filled with the giants that are big in size but are slow and flatfooted. The market demands a change and this change could only be brought by innovative start-ups that are willing to present their creatively to provide the solution for the client's problems.
Tips To Track Money For Innovation
Approach Niche Sites
Blogging is a great way to introduce your ideas to the expert; however, meaningless blogging could leave you out of place with no results. Begin your quest by reaching out the editors of the website that deal with the content related to your niche. On these platforms, you get a chance to interact with several influencers and marketers that could be of profit for your B2B start-up.
Contact Your Ex-Colleagues
If you are looking for some easy targets for your start-up, begin with contacting your Ex-colleagues. Be it your college mates or the colleague you have worked with in past few years; it is absolutely necessary to keep contact with your ex-colleagues. After setting up your B2B start-up approach them with your offer. As they have your trust already, you never know what you may find.
Network While Traveling
Pitching to your customers in person is undoubtedly one of the most effective ways to groom your B2B Company. Networking while traveling helps you to meet new people, and sometimes you end up exploring a brand new client looking forward to making some big investment.
A lot has been said and written about the B2B Business module; however, very less has been compiled for the start-up entrepreneurs that could possibly use B2B business module to succeed in the market. With the hope that we'll read quite more of it in future, I take your leave; thank You!
Category Tags