Winter Fashion 2018: How To Stay Warm Yet Stylish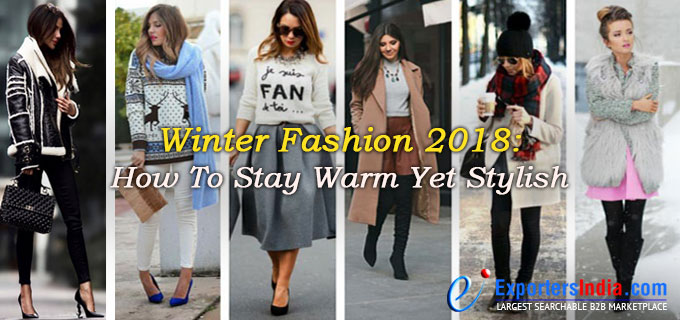 'Winter Wardrobe Woe' is turning out to become a real thing with people dreading to sacrifice their style to stay warm and protected from the wintery chills. The baggy & bulky sweaters, hoods & beanies, and layers of winter clothing thrown one over the other might dull and bore down your look. However, the same puffers, coats, sweaters, hoodies, and jackets can make you a style diva if you follow the winter fashion trends of 2018. So, when the mercury drops this winter, don't trade your style for warmth! Just follow the simple winter fashion guide given below to stay warm yet stylish.
Slip Into Knit Jumper Dress, & Throw On Thigh High Boots
When it comes to styling for winter, jumper dresses have always been the go-to for all occasions. Many celebrities have been spotted wearing warm, loosely knit jumper dresses in winter 2018. While most girls like to throw in a pair of skinny tights under the dress to stay warm, skipping out on the tights and pairing it with thigh-high boots can make you a showstopper at any event. Pairing a sweater jumper dress with thigh-high or knee-high boots can give you that cozy, comfy, yet sexy look.
Cover It All Under Faux Fur Long Line Coats & Tights
Another look that can be seen being donned by the top celebs this winter is faux fur long line coats. Faux fur has been favorites for many years as they were layered as a vest, coat, or a sweater. This year, snuggly faux fur long coats are in trend and people are pairing them with skinny tights below. They're not just cozy and warm but also add a touch of style to any outfit. Wear any winter essential underneath and layer it with a long line faux fur coat with opaque tights underneath to complete a chic winter look. Throw in some ankle booties down below.
Up The Game With Loose Cowl Neck Sweater, Skinny Jeans & Booties
For those who fear the turtleneck sweater or feel they are too overdone, cowl neck sweaters are there to make your winters more comfortable, warm, and stylish. Whether you are heading out to the office or going for a day outing with friends, a loose cowl neck sweater would not just provide the warmth but also make you look really stylish in winter 2018. Pairing a loose cowl neck sweater with skinny jeans and booties can be a great way to up your style game. While the loose sweater would keep you snuggled, the skinny jeans would help accentuate the legs and figure.
Go Formal With An Edgy Sweater & Wide-Leg Pants
Another style that took off in summer 2018 was wide-leg pants and they are going to continue making style statement during the winters as well. While summer was all about pairing wide-leg pants with body-hugging crop tops and camisoles, these can be styled perfectly in winter with edgy and ruched sweaters. Choose a light colored sweater that has the right fitting and elasticity to act as a figure-hugging, slim-fit sweater. The benefit of wearing wide-leg pants is that one can easily wear warm tights or warmers beneath to keep themselves warm. Add a simple scarf while going to the office or some after-office get together and a rugged denim jacket on top for a carefree look for outings. Complete the look with a pair of heeled boots.  
Keep It Casual With Oversized Leather Jacket, Boyfriend Jeans & Chelsea Boots
For a casual yet chic look for winter 2018, have an oversized leather jacket ready in your winter clothing closet. Gone are the days of edgy and biker leather jacket, oversized leather jackets with faux fur lining or collar would be a great fit for this winter. To complete a rough, tough and carefree look, pair it with boyfriend jeans and Chelsea boots. This look is great for all fun-outings, friends gathering, and other casual events in winter.
Remember, being stylish is all about being comfortable in your own skin, be it in summers or winters. The winter 2018 style guide given above will not just keep your warm and cozy in the winters but also up your style game by several notches. So, follow these trends, stay stylish, and enjoy your winters.
Category Tags