ExportersIndia Wishes You a Very Happy Diwali - The Festival of Lights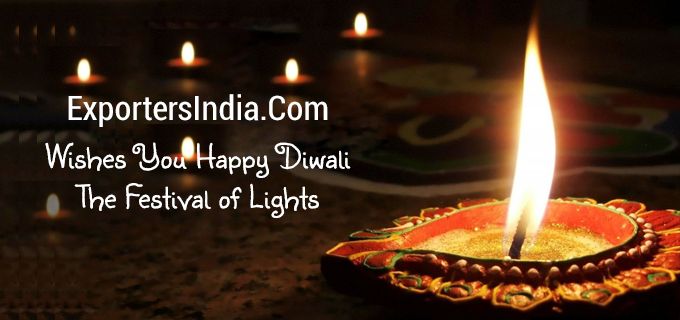 Diwali is celebrated on the fifteenth day of the 'Kartika' month of the Hindu calendar. A festive mood is filled in the air with the onset of this month. And we, at ExportersIndia, wish each one of you a very happy Diwali. We hope that goddess 'Laxmi' visits your house this season and fill your lives with prosperity.
The new moon night of the Kartika month is very pious, not just because of Diwali, but a number of other reasons. Many myths and stories are linked to this day. We are going to brief you about some of the historical stories that will help you get a deeper insight into our culture and tradition.
Victory Of Lord Rama:-The most common theory behind Diwali celebration is related with the victory of Lord Rama over the evil Ravana. It is said that Rama returned to Ayodhya after an exile of 14 years and the people of the city decorated city with flowers, lit lamps and incense sticks and distributed sweets to welcome their rightful king after defeating Ravana.
Return Of The Pandavas:-In the Hindu epic Mahabharata, it is mentioned that Pandavas or 'Kuntiputras' returned from their twelve years of exile on the auspicious day of Diwali. The people of the state celebrated their arrival by lighting up the entire place, singing songs and dancing.
Birthday Of Goddess Laxmi:-'Kartika Amavasya' is also celebrated as the birthday of the Goddess of wealth, i.e., Maa Laxmi. We worship the idols of Goddess Laxmi every year on this day to mark her birthday celebrations.
Kali Puja:-Kali Puja, also known as Shyama Puja, is celebrated on 'Kartika Amavasya' to mark the defeat of evil at the hands of Maa Kali in the form of 'Nari Shakti'. It helps to destroy evil on the outside as well as inside human souls.
Victory Of Lord Vishnu Over Bali:-Mahabali, filled with power gifted to him by Lord Brahma, defeated all the gods and imprisoned Goddess Laxmi. Lord Vishu came to earth in his Vaman-avtaara and ripped Bali of his power, kingship and wealth on the pious day of Diwali.
Killing Of Narkasura:-Drunk with power, Narkasura, defeated both heaven and earth and tortured its inhabitants. Lord Krishna killed him on the fifteenth day of Kartika month and rescued about 16,000 women from his trap.
Vikramaditya's Coronation:-The great and honest, King Vikramaditya was crowned on the auspicious day of Diwali in modern-day Thailand.
Swami Dayanand's Enlightenment:Swami Dayanand Saraswati, one of the greatest Hindu reformists and the founder of Arya Samaj, attained 'nirvana' on the auspicious day of Diwali.
Enlightenment Of Vardhaman Mahavira:-The founder of modern Jainism, Vardhaman Mahavira, is said to have gained enlightenment on the day of Diwali in 527 BC.
Blessing Day For Sikhs:-In 1619, Guru Hargobindji declared the day of Diwali to be the day when all Sikhs would gather and receive blessings from their Gurus.
Festival Of Harvest:-Diwali is marked as the beginning of harvest season for the peasants of the country.
The entire family of ExportersIndia.com wishes each one of you a great Diwali. May this Diwali fill your lives with lights and brightness!
Category Tags
3 thoughts on "ExportersIndia Wishes You a Very Happy Diwali - The Festival of Lights"
Thanks for sharing your thoughts. I truly appreciate your efforts and I am waiting for your next post thank you once again.

Long live the tradition of hindu culture and as the generations have passed by hindu culture is getting stronger and stronger lets keep it up.Best Wishes for Diwali

Deepavali is the festival of Hindus it is also called the festival of lights, It is spiritually signifies the victory of god over evil, knowledge over ignorance, light over darknes, We all clean and decorate our houses and lights candles and diyas on this festival, I love this festival very much, I wish you all happy diwali, may this diwali bring happiness in your life.