cotton paper embroidery dustbin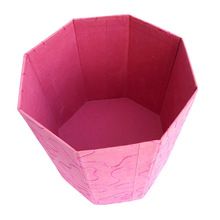 Type : Floor Boughpot, Flower Kettle/Sprinkler, Flower Tub, Pots, Pergola, Propagator Kits, Small Fence, Vase, Flower Basket, PLANTER
Size : 30x25 Cm
Material : Handmade Paper
Model Number : DST00004
Usage Condition : Desktop
Size inch : 12"x9 3/4"
Style : Classic
Used With : Flower/Green Plant
Finishing : Hand embroidery on handmade paper & cardboard.
Packaging Details : Specified packing can be carried out like inner cartons / master cartons of required shape and size. Barcodes and stickers are no problems at all.