Low Fat Organic Soya Meal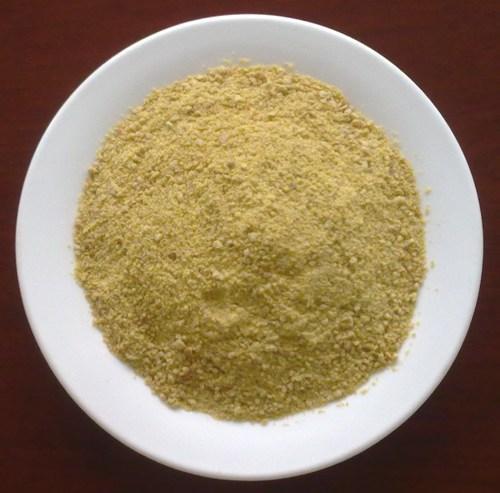 INR 36 / Kilogram ( Approx )
Min. Order (MOQ) : 1000 Kilogram
Description :
We are cultivating Organic NON-GMO Soybean by our contract farmer in organic certified farms & clean it in our Organic certified cleaning & grading plant. Clean seed is further process in our unique organic certified oil extraction plant where we extract oil from soy bean. In this process the anti nutritional enzymes of soy seed is deactivated, modify or reduce, and it also improve the nutritional value of whole soybean for around long time. The processing method is organic certified and requires no chemicals or solvent such as hexane to extract oil. The anti nutritional enzymes of soy seed are deactivate & reduce during process.

Benefit of Organic NON-GMO Soy Meal (Feed Grade) :
Energy and Protein in one ingredient.
Eliminates the need for added fat in poultry and dairy cattle feeds.
Replaces soybean meal in poultry, dairy and cattle feeds.
Our unique cooking system breaks cell walls in soybeans, increases protein, fat digestion efficiency, modifies complex carbohydrates, reduces viscosity in the intestine and decreases weight droppings.
Our unique process increases the percentage of Rumen Bypass Protein for ruminants
Contains only 10% moisture and contains Tocopherol and Lecithin, important for protection from oxidation and increasing fat digestibility.

Aproximate Analysis :
Protein min 45% (Dry Basis)
Fat max 8%
Moisture max 10%
Ash max 7%
Sand/Silica max 1%
Mesh Size: 10-80 Mesh Size Particles

Microbiological Analysis:
Total Plate Count NMT 50,000/gram
Coli form NMT 50/gram
Yeast and Molds NMT 50/gram
Salmonella Negative in 100-gram sample
Labeling : Organic Soy Meal

Packaging :
50 kg. weight P.P Bag
Single jumbo container liner p.p. bag
Packaging : PP Bag
Size : 50 kg
Fat : 5-6%
Nutritions : Protein, fat, fiber, sand, silica
Category : Animal food
Brand Name : Soymagic meal
Cuisine : Indian
Speciality : Gluten Free, High in Protein, No Artificial Flavour
organic : 100%
Protein : 46%
Ureas Activity : Very less (Negligible) .