Dehydrated Garlic Cloves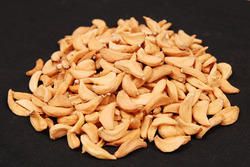 INR 167700 / Ton ( Approx )
Min. Order (MOQ) : 1 Metric Ton
For payment of an order, buyers can either choose the standard bank transfer method or opt for a cash on delivery one. We safely conduct monetary transactions to facilitate our clients. Rely on us to buy the best in class Dehydrated Garlic Cloves; we are a notable Supplier in this domain.

Product Dehydrated Garlic Details :
Size - 8 to 15 mm
Color - Brownish
Aroma - Strong
Aroma represents Indian Origin product
Packing - 25 Kg. strong Poly bag inside cartoon
Qualities - A - Grade, Commercial grade
Loading - 20/40 feet container
Loading Capacity - up to 12 TO 15 MT
Packing Material used Strong Poly bags, Paper bags, Cartoon Pack Marking We facilitates our own as well as private labelling & marking as per customer convenience.

Benefits of Our Packaging :
For maintaining perfect product colour, aroma, hygiene & shelf life.
Provide convenience during distribution & sale.
Promotes image & Brand of enterprise
Communicate attributes and recommend use of the products
Distinguishable from other products
To Meet legal requirements for product distribution & sale
Color : Brownish
Drying Process : Mature, fresh garlic are washed, trimmed, cut and dehydrated by passing Hot Air Closed
Product Type : Dried And Preserved Vegetable
Packaging : 25 Kg. strong Poly bag inside cartoon
Certification : APEDA
Place of Origin : Gujarat
Size : 8 to 15 mm
Additional Information:
Payment Terms : L/C, T/T,
Packaging Details : We also provide customize/private labeling & marking facility to our customers as per their requirements. We ship our goods in 20/40 feet containers that made from high quality metal material.
Delivery Time : 15 day