Mild Steel Conduit Pipes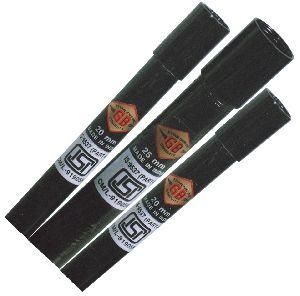 We are reckoned as one of the prominent Conduit Pipes Manufacturers in India. The Rigid Conduit Pipes offered by us are ideally designed for various applications like tubular furniture, electrical wiring, carrier etc. ERW Steel Conduit Pipes are GB marked and passed by Bureau of Indian Standard (BIS). It is approved by various Government Departments like MES, Airport Authority of India etc. and is supplied to Steel Plants, Power Projects, Government Departments, Public Undertakings and Private Establishments. Our product is manufactured as per IS-9537 Part II with ISI stamping on every meter.

Additionally, ERW Non ISI Conduit Pipes are available in dimension ranging from 19MM to 50MM and Gauges varying from 20 Gauge to 14 Gauge.
Material : MS
Diameter : 20MM-50MM
Surface Treatment : Stoving Enamelled Black Paint
Thickness : 1.4mm - 1.8MM
Application : Wire Feetings
Finishing : Coated
Products Images
GB ISI Rigid Steel Conduits Made To IS:9537 (PT-II) 1981 Specifications Dimensional Requirements
| | | | | | |
| --- | --- | --- | --- | --- | --- |
| Size | 20mm | 25mm | 32mm | 40mm | 50mm |
| Diameter (mm) | 20 | 25 | 32 | 40 | 50 |
| Tolerance | -0.3 | -0.4 | -0.4 | -0.4 | -0.5 |
| Minimum outside Dia | 19.7 | 24.6 | 31.6 | 39.6 | 49.5 |
| Maximum outside | 20.04 | 25.04 | 32.04 | 40.04 | 50.04 |
| Wall thickness Min | 1.4 | 1.4 | 1.4 | 1.6 | 1.6 |
| Wall thickness Max | 1.8 | 1.8 | 1.8 | 2.2 | 2.2 |
Technical Specifications For G.B. Standard Conduits
Sr. No.
Size in MM
Size in Inches
Gauge
App. Weight in Kgs. Per I00 Ft.
1
2
3
4
19
19
19
19
3/4
3/4
3/4
3/4
20
18
16
14
11-12
14-15
19-20
23-24
5
6
7
8
25
25
25
25
1
1
1
1
20
18
16
14
14-15
19-20
25-26
32-33
9
10
11
12
31
31
31
31
1-1/4
1-1/4
1-1/4
1-1/4
20
18
16
14
17-18
25-26
31-32
38-39
13
14
15
38
38
38
1-1/2
1-1/2
1-1/2
18
16
14
32-33
38-39
46-47
16
17
50
50
2
2
16
14
54-55
62-63