Eco Friendly Red Wooden Toy Kitchen Set Kids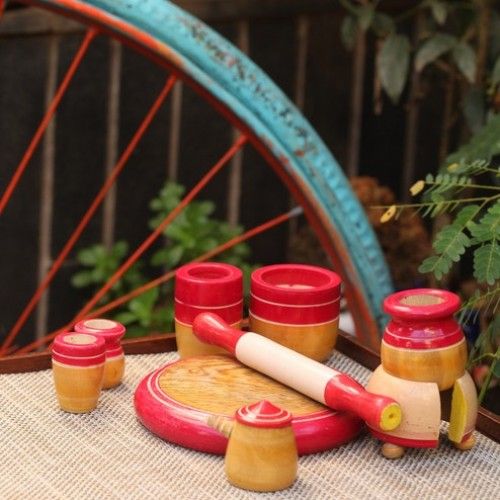 Give Your Kids a Break From Typical Plastic Toys and Get Home This Traditional Wooden Kitchen Set Which is Colored with Natural Vegetable Dyes and Chemical Free Colors. Specialty: Handmade From Lacquer Turn Wood Contains Kitchen Ware Like Vessels, Dish, Etc. Painted with Natural Vegetable Dyes Chemical Free and Safe Colors Made by the Rural Artisans of Channapatna Usability: Can Be Gifted on Kids' Birthdays, Especially Girls Can Be Given as a Return Gift on Birthdays Dimensions: Length: 11.5 cm X Width: 11.5 cm X Height: 1.5 cm Weight: 285 Gm Art: Lacquer Turn Wood Art History and Art: Each Toy in This Interesting Toy Set is Made Up of Wood. The Art of Making the Toys is Called Lacquer Turn Wood as the Wood is Continuously Turned During the Process. Making Lacquer Products is An Ancient Technique Followed by the Craftsmen of Channapatna.
Material : Wooden
Height : 3 Inches Approx.
Size : 4.00
Product Code : SMG-402/17477
Seller : Shalini Shah
Color : Multicolor
Length : 1 Inches Approx.
Posted in : Brainteasers and Toys, Gifts And Offers
Material : Wood.
Width : 4 Inches Approx.