Gyproc Easi-Fill Powder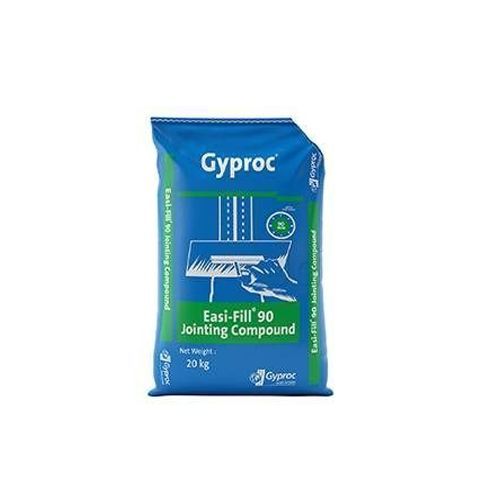 INR 525 / Bag(s) ( Approx )
Min. Order (MOQ) : 1 Bag(s)
Features
Fast setting
Quick jointing
Minimum/ no shrinkage
Excellent bond strength and crack resistance
Cost effective jointing

Selecting the correct product for an application can save you time and money while jointing plasterboards.


For filling joints and bedding tapes, a product which 'fills' the gap and dries quickly is required, so that further processes can be done immediately. Easi-Fill® is recommended for its quick-setting nature
Easi-Fill® can be used for the second coat too, depending on the finish desired
An air-drying product is required for the finishing coat. Use Pro-Fill® or Pro-Top® Ready Mix Jointing Compound for an excellent finish of the joint
Easi-Fill® is recommended for repairing joints and treating drilled holes for utilities
Gyproc Joint Paper Tape is recommended for the best crack-resistance performance and fire-rated partitions and ceilings
Gyproc Drywall Joint Tape (Fibre Tape) is recommended for quick jointing of plasterboards.
Width : 200-250mm
Feature : Durable, Heat Resistant, Waterproof
Length : 10-15mtr
Thickness : 2mm
Material : Fiberglass
Use : Bag Sealing, Carton Sealing
Grade Standard : Industrial Grade
Packaging Size : 20 kg
Packaging Type : Sack Bag
Color : White
Physical State : Powder
Brand : Gyproc