PTFE Membrane Disc Filters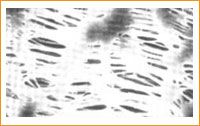 PTFE membrane filter is resistant to wide range of chemicals. Surface wetting by IPA should require prior to Liquid filtration.
It is mainly used for Air/Gas filtration. Membrane is supported on non woven base to improve handling of filter.
Features :
Low Chemical Background.
Ideal for Gas/ Organic Solvent Filtration.
Gravimetric determination with tare mass.
Material: : PTFE And Also Available In Nylon,PES,PP
Filter Medium Material: : PTFE
Cartridge Diameter (inch): : 50mm
Pore Size (microns): : 0.2
Size (millimetre): : 50mm
Specification:
Pore Size (μm)
0.22
0.45
Thickness (μm)
135
135
Bubble Point (psi)
15
7
Air Flow
(Lt./min./cm2 ) (at 10 psi)
2
3
Diameter (mm)
25, 47
Ordering Information:
Grade
Pore Size (μm)
Diameter (mm)
Pack Size
PTFE
0.22
47 mm
100
25 mm
100
0.45
47 mm
50
25 mm
50
Please Specify Particulars Say For: