Animal Feed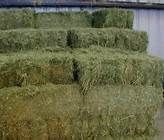 USD 100 / 200 Metric Ton ( Approx )
Min. Order (MOQ) : 15 Metric Ton
We are manufacture company from thailand and we offer many grades of alfalfa and other different types and kinds of animal feeds, different protein content and drying method.we are looking for a good buyers to make long term contract.

specifications:

bale weight: 30kg +-5%
size: 40x40x80 cm
protein: 15-18%20-25%
fibers: 16%
moisture: 10-13%
color: 85% green
drying: sun-dry machine-dry
cont weight: 13-14tons
baleton: 33-35
balecont: 445-455

fob price: us $100 - 200 metric ton
port: : bangkok
minimum order quantity: 15 metric ton
supply ability: 600mt month
packaging detail: bales 25kg or 35kg or as required.
Delivery detail: 7-14 days after order

contact for any inquiry and specification on any other different type of animal feed including alfalfa hay.
Additional Information: