Beautiful Hanging Planters - Cotton Cord Macrame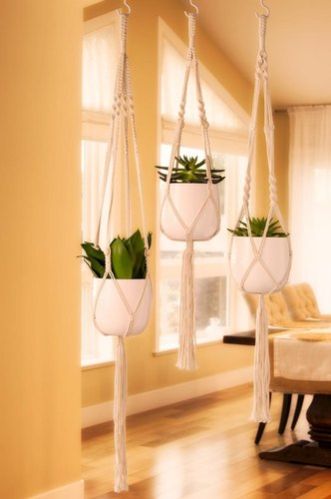 INR 250 / Piece(s) ( Approx )
Min. Order (MOQ) : 3 Piece(s)
a macrame plant hanger available in different colors & sizes! it bring some color to your urban jungle.

we have a home/studio that allows us to reduce our environmental footprint and live more simply, while at the same time being a space where we love to spend our time. To give you a conscience mind when purchasing our products. We only use cotton rope.

??? size & dimensions
knotted plant hangers start from rs. 250. Size - 1.5 ft. (45 cm), 2.0 ft. (60 cm), 2.5 ft.(75 cm), 3.0 ft. (90 cm), 3.5 ft. (105 cm), 4.0 ft. (120 cm) in length (from top to bottom of the tail) with twisted cotton rope.

??? this handmade macrame plant hanger is made to order and will take 1- 5 days.

this piece is made to order and will look similar to the piece on the photo, the dimensions and proportions will be the same, however due to the handmade process slight difference are possible.

* pot and plants are not part of above price.
Material : Cotton
Type : Hanging Planters
Color : White
Application : Outdoor Use Indoor Use, Planting