Black Obsidian Bead Bracelet (ptb-5667)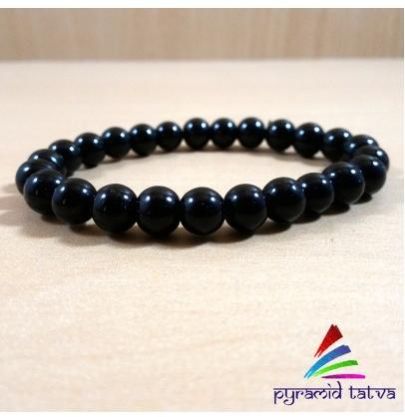 INR 300 / Piece(s) ( Approx )
Min. Order (MOQ) : 1 Piece(s)
Being a natural glass made of quartz, it represents the seeker within. Black Obsidian stone is used as a grounding crystal in healing regimes. Representing the true self of a CAPRICORN, the ultimate seeker of self, Black Obsidian is the natural gemstone for people born under this sun sign.
Obsidian represents Wood Energy which is traditionally associated with the East and Southeast areas of a house or room. It is corresponding with the Family and Health area along with Prosperity and Abundance in one's life.
This stone could be used in the East area of a room or house which will help in Qui, the Universal Life Force flowing properly there. Also Obsidian will enhance energy flow aiding and guiding your efforts towards making contributions in enhancement of family and community.
Obsidian stone are also used as effective tool against depression, blocking negativity of any kind. It also helps in meditation and seeking one's true self.
Color : Black
Chakra : Root Chakra
Bead Size : 8 mm
Zodiac Sign : Scorpio, Sagittarius
Brand : Pyramid tatva