Green Aventurine Angel (pta-38)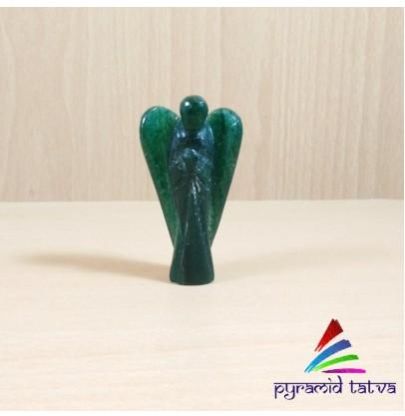 INR 250 / Piece(s) ( Approx )
Min. Order (MOQ) : 1 Piece(s)
Green Aventurine belongs to the Seeker and Transformer Crystal family. Seeker and Transformers are popular talismans, used to find transformation in life towards more desirable state.  Seekers are used for guidance in searching for a new path, direction, approach or any quest which is desired but not attained yet.
Charged with Earth Power of the Transformer, they are great aid in seeking new avenues towards transformation of life and relationships. Green Aventurine is widely used to remove negativity and to connect with the energies of the earth. It is also considered to be a tool integrated with the energy to provide long term financial security and stability.
Green Aventurine represents Wood Energy which is traditionally associated with the East and Southeast areas of a house or room. It is corresponding with the Family and Health area along with Prosperity and Abundance in one's life.
This stone could be used in the East area of a room or house which will help in Qui, the Universal Life Force flowing properly there. Also Green Aventurine will enhance energy flow aiding and guiding your efforts towards making contributions in enhancement of family and community.
Green Aventurine is used for meditation ritual wherein it is used initially for grounding and stabilizing prior to using other crystal forms. Green Aventurine also helps in harmonizing one's energy in attunement with the cosmos thus giving a feeling of oneness with higher self. It is also known to be a stone of hope and joy.
Reward Points : 5
Size : 2 inch
Zodiac Sign : Taurus, Virgo
Chakra : Heart Chakra
Brand : Pyramid tatva
Color : Green
Products Images
| Image | Details |
| --- | --- |
| | |
| | |
| | |
| | |