Antique Vintage Nautical Mini Table Wooden Tripod spot light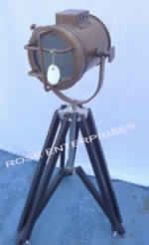 It is made by aluminum and wooden Tripod Stand with Electric fitting. it can be used for home decoration, library, Dining and for commercial purpose.Wooden Tripod is specially designed to match Home Furniture.
Finishing : Brown Antique
Item Code : S-188
Light Diameter : 5"
Stand Height : 18"