Guduchi (Pro-Immune Capsule)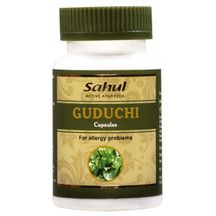 INR 39 - INR 59 / Piece(s)
Min. Order (MOQ) : 5000 Piece(s)
This potent anti-oxidant and immuno-stimulant is extremely useful in Febrile Conditions as it significantly boosts Immunity and protects against recurrent viral and bacterial infections.

Guduchi effectively mitigates pain and inflammation in Arthritis and endows strength to the Bones. Furthermore, this herbal rejuvenant helps in maintaining normal level of Blood Sugar and efficiently supports Liver Functions as well.

Actions :
Exerts significant Immunomodulatory and Anti-psychoticactivities.

Effective Anti-diabetic herb owing to remarkable antioxidant1, insulin releasing, insulin-mimicking2, and alpha-amylase and alpha-glucosidase inhibitory effects. Guduchi efficiently helps maintain the normal level of blood sugar and considerably protects against Diabetic Complications as well.

Possesses excellent Uroprotective3 and Hepatoprotective effects.

Increases Bone mineralization, Promotes Osteogenesis and is extremely useful as an Anti-osteoporotic agent.4
Indications :
Guduchi is extremely useful in the following conditions:
Lowered Immunity, recurrentallergies and bacterial and viral infectionsof the respiratory tract. Guduchi is extremely beneficial in Allergic Rhinitis, where it significantly reduces sneezing, nasal discharge, nasal obstruction, nasal pruritus / itching, eosinophilia and neutrophilia.5
Febrile States
Chronic Skin Infections and allergies
(As an adjuvant in) Type-2 Diabetes mellitus, Liver Dysfunction, Osteoporosis, Arthritis, Stress and Depression

Presentation : 60 Capsules in a Single Pack.
Dosage / Serving Size : 1 Capsule twice daily with water after meals.