Wood Cutting Hand Saw Blade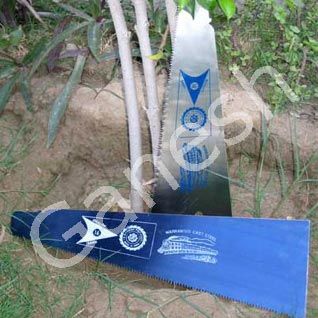 Wood Cutting Hand Saw Blade that we offer is manufactured using well finished, hardened and tempered high carbon steel strip. It is available in both wooden & plastic handle packed in colorful sleeves. Wood Cutting Hand Saw Blade is provided by us in bright, black, blue and orange (satin) finish. Obtain from us, the hand saw blade at a very reasonable price. Place retail as well as bulk orders for the product with us!

Details :
Hand Saw Blades are required in the market in various types of color, teeth, handles, sizes, etc.
Weight : 1-2kg, 100-200gm
Finishing : Polished
Size : 12 to 48inch length in various thicknesses
Application : Cutting
Certification : CE Certified
Teeth : In both Reverse (Push) and Advance (Pull) Bowelled Teeth
Working : Used in Cutting Wooden Boards
Standard Packing : 6 Blades in each box.
Hand Saw Blade Without Handle
| Length (in Inches) | Teeth per Inch (T.P.I.) | Steel Finish |
| --- | --- | --- |
| 12 | 6, 7 | Grey, Bright, Blue |
| 14 | 6, 7 | Grey, Bright, Blue |
| 16 | 6, 7 | Grey, Bright, Blue |
| 18 | 6, 7 | Grey, Bright, Blue |
| 20 | 6, 7 | Grey, bright, Blue |
Hand Saw Blade In Plastic Handle With Teeth Towards Handle
| Length (in Inches) | Teeth per Inch (T.P.I.) | Steel Finish |
| --- | --- | --- |
| 12 | 6, 7 | Bright |
| 14 | 6, 7 | Bright |
| 16 | 6, 7 | Bright |
| 18 | 6, 7 | Bright |
| 20 | 6, 7 | Bright |
Hand Saw Blade In Plastic Handle With Teeth Opposite Handle
| Length (in Inches) | Teeth per Inch (T.P.I.) | Steel Finish |
| --- | --- | --- |
| 12 | 6, 7 | Bright |
| 18 | 6, 7 | Bright |
| 24 | 6, 7 | Bright |
| 30 | 3 | Bright |
| 36 | 3 | Bright |
| 42 | 3 | Bright |
| 48 | 3 | Bright |
Hand Saw Blade With Wooden Handle / Plastic Handle With Straight Teeth
| Length (in Inches) | Teeth per Inch (T.P.I.) | Steel Finish |
| --- | --- | --- |
| 16 | 6, 7 | Bright |
| 18 | 6, 7 | Bright |
| 20 | 6, 7 | Bright |
| 24 | 6, 7 | Bright |
| 30 | 3 | Bright |
| 36 | 3 | Bright |
| 42 | 3 | Bright |
| 48 | 3 | Bright |
Hand Saw Blade In Wooden Handle
| Length (in Inches) | Teeth per Inch (T.P.I.) | Steel Finish |
| --- | --- | --- |
| 12 | 6, 7 | Bright |
| 14 | 6, 7 | Bright |
| 16 | 6, 7 | Bright |
| 18 | 6, 7 | Bright |
| 20 | 6, 7 | Bright |
| 24 | 6, 7 | Bright |
| 30 | 3 | Bright |
| 36 | 3 | Bright |
| 42 | 3 | Bright |
| 48 | 3 | Bright |