Juicer Mixer Grinder- MICRA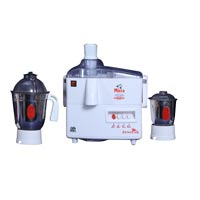 INR 1.20 k - INR 1.40 k / Piece(s)
Min. Order (MOQ) : 100 Piece(s)
Micra Juicer Mixer Grinder: A machine that fits your kitten need. We are among the trusted Manufacturers and Suppliers of Juicer Mixer Grinders. We offer these Juicer Mixer Grinders at the best rates to wholesalers.
Quality of product is remarkable. The machine is an excellent work of engineering develop too meet your day to day needs of juicing and mixing.

Technical Specifications
230 V AC. Only 50 HZ
30 MIN Rating
(5min. liON 12min" OFF")
18000 R.P.M. (NO LOADS)
Class of Insulation "E"

Minimum Order Quantity : 100 Pieces

To enquire about the desired product(s), just check the box and then click Inquiry Now button which is provided below.
Voltage (V) : 110V, 2300V, 2400V
Warranty : 2 Years
Grinder Type : Juicers
Wattage : 550W
Number of Jars : 2
Number of Speed Settings : 3
Frequency : 50hz to 60hz AC
Products Images
| Image | Details |
| --- | --- |
| | |
| | |