Tandoori Chicken Masala (Tandoori Chicken Mas)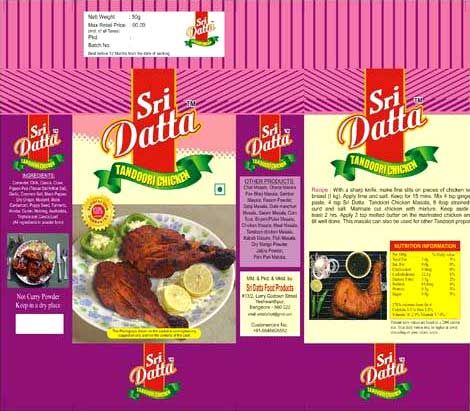 For making Tandoori Chicken utterly delicious, we present Tandoori Chicken Masala. The Tandoori Chicken Masala is all what is needed to bring the much needed aromatic flavor to various tandoori dishes. Our Tandoori Chicken Masala comprises of a perfect blend of spices which add delicacy to other non vegetarian food items as well. The powdered form of ingredients offered by us provides the pungent taste and richness of spices. We make available our Tandoori Chicken Masala at pocket friendly price.

Ingredients
CorianderChilliCassiaClovePigeon Pea (Toover Dal/Arhar Dal)GarlicCommon saltBlack pepperDry gingerMustardBlack cardamomPoppy seedJturmericAnistarCuminNutmegAsafetidaTriphalaCassia leaf
Contains
270 k calories from fat, 6 calcium 3. 5 % iron 2. 8% vitamin 'a' 2, 5% vitamin 'c 0%.
Nutritional Information (Per 100g)
| | |
| --- | --- |
| Total fat | 5. 0g |
| Sat. Fat | 0. 0g |
| Cholesterol | 0. 0mg |
| Carbohydrates | 22. 5g |
| Dietary fiber | 3. 5g |
| Sodium | 65. 0mg |
| Protein | 9. 5g |
| Sugar | 0. 0g |