Marshall Stability Test Apparatus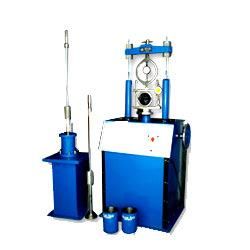 INR 70 k / Piece(s) ( Approx )
Min. Order (MOQ) : 1 Piece(s)
Minimum order quantity 01 set
capacity 50kn
power supply 230 v,50hz, single phase, a.c.
Material for construction stainless steel
rate of travel 50.8 mmmin

marshall apparatus consists of:
robust construction
safety cut-off switch

it consists of body housing, a geared screw jack and motor drive mechanism suitable for operation on 230 v,50hz, single phase, a.c. Supply.

Zi 4022-a marshall load frame 1 no.
Zi 4022-b breaking head stability mould, with a dial gauge ( having 25mm travel and 0.01mmleast count), for flow measurement 1 no.
Zi 4022-c compaction mould, steel cylindrical 3 nos.
Zi 4022-d base plate 3 nos.
Zi 4022-e extension collar 3 nos.
Zi 4022-f compaction pedestal, manual operation, comprising a steel plate capped on a wooden post. A mould clamp is fitted to the top of the plate . 1 no.
Size : Blue
Application : Laboratory
Brand Name : TNEI
Blue : Blue
Place of Origin : Chennai
Model Number : TNEI