Pavement Core Drilling Machine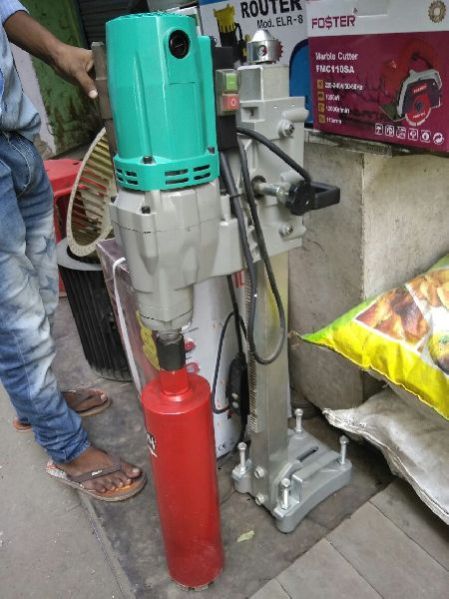 INR 1.15 Lac / Piece(s) ( Approx )
Min. Order (MOQ) : 1 Piece(s)
Minimum order quantity 01 piece
machine type automatic, semi-automatic
maximum drilling diameter 25mm, 30mm
no-load speed 400 rpm, 700 rpm
bit diameter varying from 25mm to 150mm
maximum depth of core 700mm
drill speed 475 - 800 r.p.m
guide shafts 50mm dia
screwed spindle 20mm dia
water tap 12mm
drill wrenches included
water tank included
levelling pads included

features:
the pavement core drilling machine is petrol engine powered.roadbuilding drill has been designed specifically for the purpose of drilling test cores from or holes in, roads, airport runways,bridges etc.

The machine comprises of two vertical support columns, which carry the drill headengine assembly with the help of screwed spindle.

The 5 hp petrol engine with pulley mechanism works with minimum vibrations. The double precision bit advances with screwed spindle, which provides a constant, accurate drill pressure, minimum core chipping long bit life.

The complete assembly is supplied on a rigid metal base with leveling facility and is suitable for vertically down coring applications only.
Color : Blue
Type : Electrical
Application : Laboratory
Application : Laboratory
Brand Name : TNEI
Condition : New
Weight : 10kg
Material : Steel
Application : Laboratory
Place of Origin : Chennai
Model Number : TNEI
Blue : Blue