Standard Penetrometer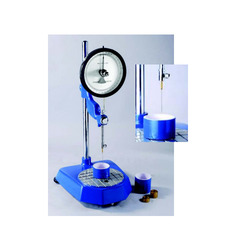 INR 12 k / Piece(s) ( Approx )
Min. Order (MOQ) : 1 Piece(s)
Minimum Order Quantity 01 Set
Temperature 25 C
Ring weight 50 gms
Brand Labtest

We are the manufacturer of Standard Penetrometer.
Used to determine grade of bitumen. The penetration tests determine consistency of bitumen for the purpose of grading. Depth in units 110 of millimeter to which a standard needle having a standard weight will penetrate vertically in a duration of five seconds at a temperature of 25° C determines penetration for gradation.
Additional Information: