Self Prime Slow Speed Pumps (VBS3 Series)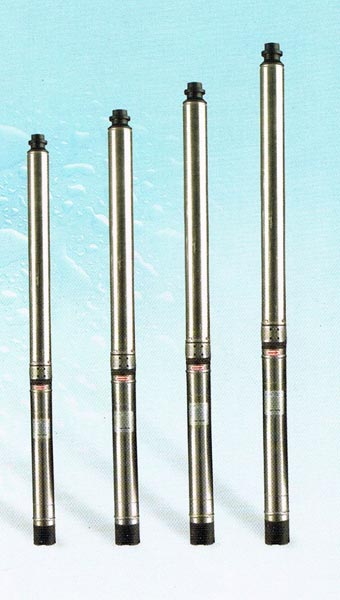 We have in stock some of the finest Self Prime Slow Speed Pumps (VBS3 Series) for use in domestic and industrial applications. The ability to noiselessly work under water has made Slow Speed Pumps offered by us one of the premier products for use in various top and heavy duty industries. Clients can get in touch with us for ordering Slow Speed Pumps at affordable rates.

Applications :
These pumps work under water and hence suction and priming problems are totally eliminated
The working is noise free. The rotor laminations are fitted with copper strips and mounted on a stainless steel shaft
Suitable for domestic water supply, agricultural applications, multi-storied buildings, fountains, community water supply, industrial and civil applications etc.
Designed for 3" Bore wells

Structural Features :
Body : Stainless Steel motor body with anti corrosive primer coating.
Impeller : Centrifugal radial flow type.
Motor : The pumps are coupled to water cooled, rewindable V-Guard Induction motors.
Insulation : Class 'B'.
Motor Shaft : Stainless Steel Shaft.
Bearings : Water Lubricated thrust and bush bearings made out of Lead Tin Bronze (LTB).
Direction of Rotation : Anti Clockwise, When viewed from the driving end.

Precautions :
The pump must be used for handling clear, cold fresh water
Permissible amount of sand-25g/m3 for 3" submersible models
Turbidity - 50 ppm (silica Scale)
Max Chloride ion density 500 ppm
Total solids - 3000 ppm
pH value - 6.5 to 8.5
Specific gravity 1.004
Hardness (drinking water) - 300 mg
The motor has to be filled with adequate quantity of clear, cold drinking water before installation. Do not operate the pump set without water under any circumstance, as this will cause damage to the motor.
Use good quality, proper gauge wire (3-core) for connection. Give proper insulation at cable joint and check the panel board connections
Working Conditions
| | |
| --- | --- |
| Power Rating | 0.37 kW - 0.9 kw (0.5 to 1.25 HP) |
| Total Head Range | Up to 110m |
| Maximum liquid Temperature | 35 oC |
| Speed | 2800 rpm |
| Version | Single phase Ac, 50 Hz |
| Voltage range | 180 - 240V |
| Type of duty | S1 (Continuous) |
Technical Specifications
Models

Power

Capacitor (mfd)

Pipe size (mm)

Discharge in LPM

--

H.P

Kw

Run

Start

--

60

50

45

40

35

30

25

20

15

10

5

0

Head in mm

VBS3-TF180/15

0.75

0.55

45

100/200

25

20

27

32

35

38

40

45

48

50

--

--

57

VBS3-F225/18

1

0.75

45

100/120

25

25

35

40

45

48

52

54

58

64

--

--

70

VBS3-F250/20

1

0.75

45

100/120

25

25

35

45

50

55

58

60

65

70

--

--

76

VBS3-FQ325/26

1.25

0.9

50

100/120

25

45

52

55

60

65

70

80

85

90

--

--

110

High - Flow Series

VBS-F130/10

1

0.75

45

100/120

25

30

34

37

40

42

44

45

46

48

48

--

51

VBS3-F170/13

1

0.75

45

100/120

25

39

42

46

49

55

58

61

63

65

65

--

66

VBSO3 Series (Oil Cooled)

VBSO3-F250/20

1

0.75

50

Nil

25

44

60

64

70

76

80

83

85

87

--

--

98