Paddle Wheel Aerator (SLAQ-2hp)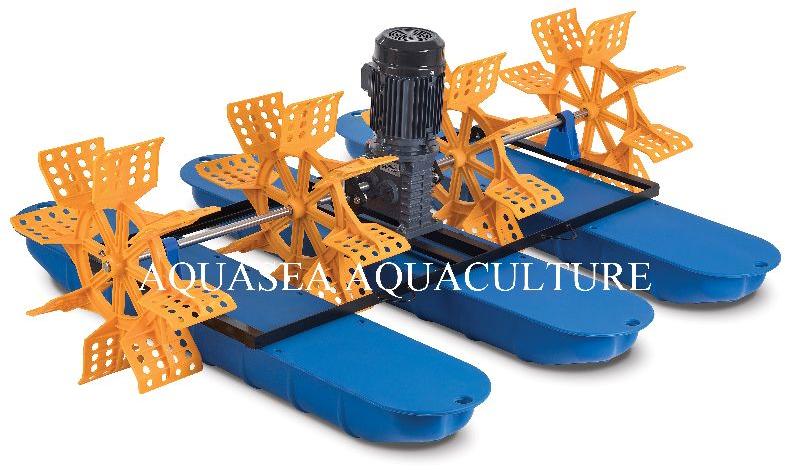 INR 35 k / Set(s) ( Approx )
Min. Order (MOQ) : 1 Set(s)
Aquasea aerator is a high-efficiency electric motor with low power consumption and Bevel gear system for 2 HP Paddle Wheel Aerator. Its electric motor can work in both low as well as high voltage. 35mm x 35mm X 3mm'L' angle stainless steel powder coated frame holds the aerator firmly so that we can have great performance. All UV resistance plastic parts give a better life in sunlight. we serve quality product to Aquaculture Industries.
SPECIFICATIONS FOR 2HP PADDLE WHEEL AERATOR

Item No.

Part Name

Qty./ Set

Short Specification

1

Motor

1

100% copper wire and silicon stamping Motor

2

Gear Box

1

Bevel - Helical Type Gear Box

3

Movable Joint

2

Stainless Steel - 304 with High-Quality Molded Rubber

4

HDPE Float

3

Virgin HDPE with UV

5

Impeller

4

Virgin PPCP with UV

6

HDPE Cover

1

Virgin HDPE with UV

7

Shafting

2

Stainless Steel - 304 Sleeve with inside Solid Iron Road

8

SS Frame

1

Stainless Steel - 304 L Angle

9

SS Bolt Kit

1

Stainless Steel - 304

10

Tripod

2

virgin Nylon with 4% UV
Guarantee : 1 Year Guarantee
Type : Surface Fixed, Surface Floating
Brand Name : Aquasea
Application : Pond Aeration
Certification : ISO 9001:2008
After-Sales Service Provided : Yes
Additional Information:
Payment Terms : T/T
Packaging Details : Standard Export Carton Packing 1 box: Motor, 1 box :Gear Box, Nut Bolt kit, Tripod, Movable joint Motor Cover :Plastic Wrap Impeller Fan (4 PCS): Plastic Wrap SS Frame: Plastic Wrap Float (3 PCS): Plastic Wrap.
Delivery Time : 10 days After Payment