Reflux Extractor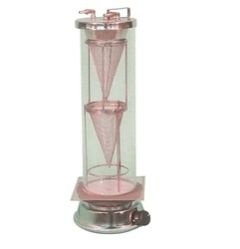 INR 52 k / Piece(s) ( Approx )
Min. Order (MOQ) : 1 Piece(s)
Minimum order quantity 01 piece
material stainless steel

specification :
the simple apparatus working on the same operation principle of consisting of cylindrical glass jar supporting two metal cones of stainless steel cloth and a metal condenser on top of the jar. Supplied complete with 100 filter papers wire gauge, hot plate.
note: spare cylindrical glass jar can be supplied at an extra cost.