How Artificial Intelligence Is Revolutionizing Indian Agriculture Industry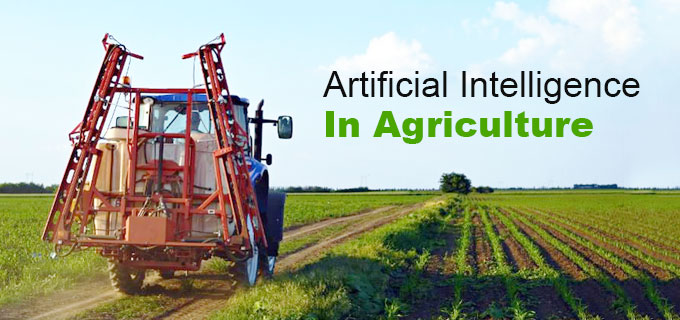 Artificial Intelligence is revolutionizing the way businesses operate and perform different functions and its wave has finally hit the agriculture sector. Gone are the days when farmers had to rely on a number of tools and manual labor to ensure maximum and high-quality yield. Now, there are AI-powered tools and robots that are performing these tasks for them. From monitoring the harvest and real-time sensing of different factors for optimal growth conditions to predicting the best time, type, etc., for high yield and even robots for picking and packing of harvest, AI is doing all of this for the farmers. If you are still wondering how AI is revolutionizing the agriculture sector, here are some things that will clear your mind.
Monitoring Soil & Crops
Artificial Intelligence and Machine Learning have reformed a number of industries this AI wave has hit the agriculture sector in India as well. There are a number of technologies being evolved by companies to make monitoring of crop and the health of soil easier for farmers. Hyperspectral imaging and 3D laser scanning are two of the top technologies developed using Artificial Intelligence that can help in ensuring the crop health. These AI-powered technologies collect precise data of the crops' health and in higher volume for analysis.
Many startups are also coming up with future-ready farming solutions for collecting and storing agriculture data in an automated manner one such is Cropin. The farm data that needed to be recorded manually can now be recorded automatically, thus, eliminating any chances of inconsistencies and errors. The farm lands or plots had to be geo-tagged which would ultimately help in remote sensing and sending out advisory alerts regarding weather. It also offered complete traceability through in-depth farm monitoring.
( Also Read: Know the Economy and Importance of Agriculture in India)
Predictive Analysis
Artificial Intelligence, data mining, and Machine Learning are some of the leading technologies that study the past and current activities, behaviors, and trends taking place in the agriculture sector. Once the data is collected, these technologies analyze it and predict what the future might hold for agriculture and farmers. The data can be used to predict actionable insights on finding new agronomic opportunities and improving the current scenario as well. These could be for the time to sow, product decision, profitability of the decision, etc.
The data to provide predictive analysis can be gathered through the in-field sensors, data collected over years, and the success & failures of the past harvests, etc. Using Artificial Intelligence to make proactive and impactful decisions in the agriculture sector can enable in overcoming different challenges. Different types of predictions like pest modeling, market recommendations, soil test value, nutrient movement & behavior, and crop yield predictions can help in improving the operations and overall output of the agro-company.
( Also Read: Farm Power Driven 90% by Machines, 5% by Humans and 5% by Draught Animals)
Automated Irrigation Systems
While irrigation always used to be a manual work of the farmers where they used to till the soil and irrigate it using water, now artificial intelligence has made it automated. The technologies are offering real-time analysis of the soil condition and whether it is in need of water and other substances or not. This real-time analysis helps in decoding what the soil requires and how it can be kept in the optimal conditions. Using real-time analysis, these systems can minimize the human efforts required in checking the soil or land from time to time. Advanced and modern agriculture manufacturers are utilizing these systems to automate their irrigation.
There are a number of automatic irrigation systems that sense the moisture content in soil and switch the submersible pumps on or off for maintaining the moisture level. Human interference is eliminated through this system. GSM based automated irrigation systems are also simplifying and streamlining the work of farmers.
( Also Read: Modi 2.0: Farmers Await Agricultural Reform Post Big Win In Elections 2019)
AI & Robots To Agricultural Use
Artificial Intelligence and Machine Learning have become synonymous to robotics in the agriculture sector now. Many companies and startups are incorporating AI technology to create autonomous robots for handling different tasks in the agriculture sector. Along with other agriculture equipments, AI-enabled robots have also become a common thing in the farms of Florida. There are some robots that are able to control weed through automatically precisely spraying weedicides and preventing the plants from becoming resistant to herbicides as well. These types of robots can help in improving the agricultural yield without any human efforts.
There is another more advanced type of robots created by different companies to help the farmers in crop harvesting. This is to address the challenge of minimum labor force available in the agriculture sector. These AI-powered robots help in picking and packing the harvest quickly and more accurately. Moreover, there are drones running on Artificial Intelligence to monitor the crops, plant the harvest, spraying etc. The advanced agriculture equipment suppliers are also looking forward to bringing these AI tools in their warehouses to supply further in the market.
Artificial Intelligence has indeed waived its magic on all industry verticals and agriculture is no exception. It is opening up new channels for the farmers and other related to the agriculture sector to grow and expand. Time is not far when the farmers who used to look out for tractor parts would now be searching for AI robots to perform their farm operations.
Category Tags