India Successful In Testing Anti-Satellite Weapons: PM Modi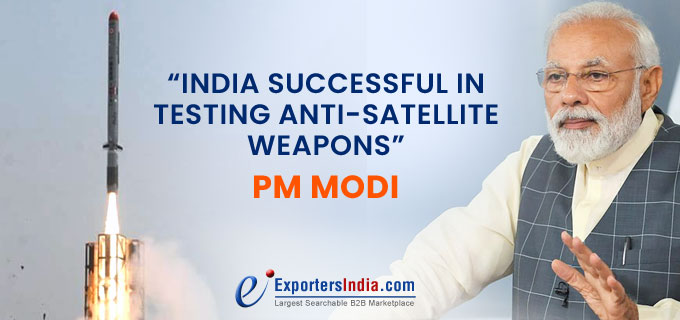 In a live session conducted by the honorable Prime Minister of India, Mr. Narendra Modi, the nation was informed of the success achieved by the scientists at the Defence Research and Development Organization in testing of anti-satellite weapons. Addressing the nation in his speech, PM Modi said, "Today is March 27. A while ago, India achieved a historic feat. India today registered itself as a space power. Till now, three countries in the world – the United States of America, Russia, and China - had achieved this. India has become the fourth country to have achieved this feat."
While congratulating the nation and its people, the prime minister addressed the nation as a "space superpower" that was successful in shooting down the pre-determined target of the Low Earth Orbit (LEO) satellite. The entire testing was conducted under the Mission Shakti launched by the prime minister to strengthen the defense system of the country and keep it secure from any foreign space threat. Not just would this successful A-SAT missile secures the nation but it would also help India emerge as a dominating force in the world economy and technological advancement.
( Also Read: Union Budget 2019: Whats In Store For The Agriculture Sector )
The address started with PM Modi congratulating India and its people for becoming a part of the elite league of space powers. He also congratulated and thanked the scientists of the Defence Research and Development Organization for achieving this foot in the world. Next, he went on to state the reason that this new proven superpower in India has come from its successful targeting of a live LEO satellite by the anti-satellite (A-SAT) weapon. The PM stated that India has never been in favor of raising arms in space and through this successful testing, India has proved that it can secure itself from any space attack while staying on the ground.
As many countries and superpowers in the international community might question his intention of launching A-SAT, he clarified everything by saying that this missile would never be used against anyone. It would be there guarding the nation and its 130 crore people while also boosting its defense, economic, and technological stand in the world. He assured the world that this test is only a defense initiative and does not breach any peace treaties or laws laid down by the international community.
While Mission Shakti has reserved a permanent spot for India in the list of elite space super-powers, many people are left wondering about this Mission and the A-SAT missile. So, what is Mission Shakti and A-SAT? Talking about Mission Shakti, it was an initiative by the Narendra Modi led government to develop these developed and fully-potential anti-satellite missiles. If we talk about A-SAT, these missiles have the power to destroy a satellite revolving in space. This missile was first tested by the United States in 1958, followed by Russia (USSR) in 1964. After these two countries, China tested its A-SAT missile in 2007. India is the fourth country after these three to have successfully tested anti-satellite missile for strengthening its space security. The Defence Research and Development organization had been working on this missile since 2010 when it first announced the creation of a weapon that could pull down any enemy satellite in space only. The indigenous efforts of Indian scientists in creating this missile prove that India is certainly rising as a space power.
Category Tags