Listen, Leverage and Lead - Customer Service and Customer Complaints Handling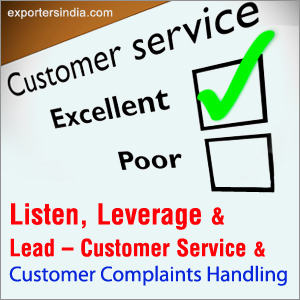 In the simplest words, complaints can be termed as dissatisfaction expressed by the customers in the context of the products and services of any company. A successful company is the one which is committed towards finding effective solutions for problems being faced by its customers & learns from all feedback, whether it is positive or negative.
Why Effective Complaint Handling Is Essential
Exportersindia.com & Its Customer Complaints Handling Process :
An Open Policy Towards Complaints
It is open towards customers that provide negative feedback regarding any of the company's products or services. There is a proper process which has been formulated for handling negative Exportersindia.com Feedback
Trained Staff To Deal With Customer Complaints
The staff is given regular training in effectively handling Exportersindia.com Complaints. The staff is trained to listen carefully and be empathetic. It is also given special training to handle angry customers & to always be polite.
High Priority To Complaints
At Exportersindia.com, all complaints are given high priority and the complaint handling staff has the required authority to resolve them in an effective and timely manner.
Right Outlook
All complaint made my customers regarding any aspect of the products or services are treated as genuine, unless proved so. To start off, it is ensured that all the facts related to the situation are collected. Once all the facts are collected, appropriate steps are taken to correct the problem.
Effective Resolution
There is no use of having a customer handling process if you do not fix the problems highlighted by the customers. It is not enough to pacify the angry customers or those who complained by giving them free gifts or providing them with a replacement (in case of faulty products). To ensure that others do not face a similar problem. At Exportersindia.com, the staff ensures that root of the problem is found and fixed promptly.
At this popular B2B portal, all ExportersIndia.com Reviews, whether positive or negative, are given equal importance. The effective complaint handling system is one of the reasons that the portal has managed to establish a stronghold in the online B2B marketplace.
Category Tags