Make Your Day Healthy with This Amazing Fruit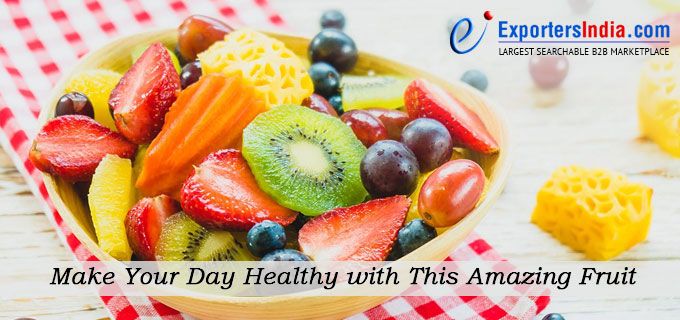 Strawberries are the loveliest and most delicious berry fruit. People across the world are fans of this red sweet berry fruit. The beautiful vibrant color and a peculiar aroma of strawberries are not just enough to sing the praise of this fruit. There is a long list of strawberry nutrition facts which would definitely make you a diehard fan of this sweet red berry. Each part of this sweet tiny fruit contains something good for your health. On the top of juicy strawberries, there is a leafy top known as calyx. You may be surprised to know that even this leafy crown is edible and carries a lot of health benefits. So why wait any further to enter the world of health benefits with the key called strawberries.
Health Benefits of Strawberries:
1. Strawberries are a brilliantly rich source of antioxidants. This berry fruit can protect you from the adverse effects of pollution and smoke. The leafy crown of this fruit contains a high ORAC (Oxygen Radical Absorbance Capacity) value. Consuming fresh leaves of strawberries' top is the best way to provide a good antioxidant to your body.
2. This fruit is a great source to get Vitamin C. Consuming just 80-gram strawberries is more than sufficient for your daily need of Vitamin C. If your conventional belief compels you to buy oranges to fulfill your daily vitamin c intake, just compare the strawberry nutrition facts and burst the myth.
3. Delicious strawberries are great for the reproduction of bacteria and parasites in the body. A study shows Strawberry's polyphenols are protective against dangerous microbes. Although a lot of health benefits of strawberriespolyphenols are yet to be discovered.
4. With a great amount of potassium and magnesium, strawberries are not less than a boon to manage blood pressure and hypertension. Strawberries effectively reduce hypertension and lower the blood pressure that is elevated by sodium.
5. Strawberries improve eyesight as they are a rich source of Ellagic acid, phenolic phytochemicals, and flavonoids, which prevent eyes from the problems like degeneration of optic nerve, macular degeneration and reduce the possibilities of eye-infections.
6. Strawberries strengthen your immune system. It is rich in Vitamin C which is a powerful antioxidant that counterbalances free radicals and strengthens your immune system to fight against infections. It improves your body's response to infections such as the common cold.
7. Strawberries are good for skin as it helps in prevention of premature skin aging. Consumption of this sweet berry helps fighting skin issues like fine lines, dullness, and sagging. Strawberries have Ellagic acid that improves production of collagen, which provides UV protection and helps in keeping skin smooth and healthy.
8. Strawberry has great anti-inflammatory properties that ease the pains caused by arthritis. Moreover, with rich anti-oxidant, they prevent the degeneration of muscles and tissues which are the primary reason of conditions like arthritis and gout.
( Also Read: Food Processing Industry in India - Rising And Ripening )
9. Strawberry is very beneficial for pregnant women and new mothers. With good amount of natural folate, strawberries helps in prevention of neural tube defects in infants. In addition to this, strawberries also prevent postpartum depression and help new mothers to enjoy new motherhood. Folate is very effective in prevention of excess formation of homocysteine which disturbs the production of happy hormones like dopamine, serotonin and norepinephrine.
10. Many studies say that strawberry consumption can have positive effects on cardiovascular health.  Strawberry has high content of anthocyanins which reduces inflammation and improves cholesterol profile.
11. People on diet can easily satiate their sweet craving with strawberries as it is one of the most delicious low calorie food. The low level of sugar content (with delightful sweetness in taste) in strawberries makes it one of the most favorite berries for people trying to loose weight.
12. Strawberry contains quercetin, a flavonoid which improves its anti-inflammatory properties and makes it a great berry to prevent allergies. Moreover, with the richness of vitamin C, this red berry reduces asthma as well. Strawberries have bioflavonoids, which reduce the reoccurrence and severity of asthmatic attacks.
13. A surprisingly true benefit of strawberry is that it is beneficial to treat diabetes. With a lot of sweetness in the taste, this fruit has an amazingly low glycemic index and contains high fiber. As per a research, done in 2011, consuming 37 strawberries in a day can sort and decrease diabetic complications. In addition to this, this sweet little berry also helps in minimizing kidney disease and neuropathy.
14. Cancer has become a worry for the world. Strawberry can help in the prevention of cancer with its antioxidant and anticarcinogenic qualities. Daily consumption of this berry improves your immune and your body's response against oxidation and inhibit tumor growth. As we know, Strawberries have vitamin C, anthocyanins, kaempferol, and quercetin and all these flavonoids together make them good to fight carcinogenic agents.
15. Owing to rich iodine, vitamin C and phytochemicals, strawberries helps in maintaining the functioning of the nervous system. Strawberries are rich in potassium which increases blood flow to the brain and improves con cognitive function. Strawberry consumption in daily diet boosts brain functioning.
16. Strawberries have malic acid which helps in teeth whitening. Malic acid is a natural teeth whitening agent. For shiny white teeth, you can take a pinch of baking soda and add crushed strawberry fruits and blend the mixture well. Apply it on your teeth and wait for 5 minutes. Now gently scrub this with a toothbrush and rinse.
Ways to Add Strawberries in Your Daily Diet: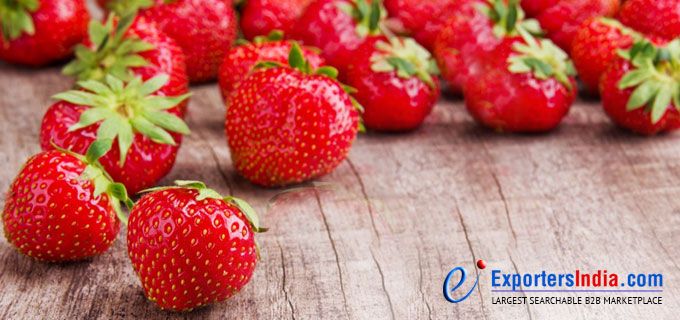 As we have told you about magical health benefits of eating Strawberry daily, you must be interested in knowing the way to consume strawberries in your daily diet, so here are some very easy ways to east strawberries daily.
1. Strawberries taste amazing in smoothies.
2. Make delicious tea using strawberry leaf and stalk, just brew them in water for 3 to 5 minutes and drink.
3. Use it as a salad dressing. For this soak them in balsamic vinegar for at least 48 hours, don't forget to use the leafy part of it.
4. Just infuse your drinking water with some slices of ripe strawberries and see the magic of your detoxifying water.
5. Blend the chopped strawberries in a blender and enjoy it as a breakfast topping.
Strawberry the tiny little berry is not only a relishing treat to the taste buds but also a pack of good health. Nowadays Strawberry Suppliers and Strawberry Exporters are shipping finest varieties of strawberries to every nook and corner of the world.
Category Tags