Tips For Developing Best Quality Sales Leads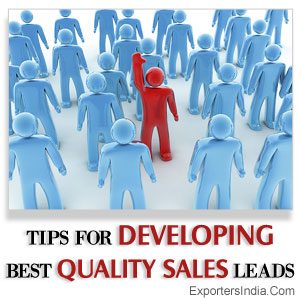 Ask any successful salesman the secret behind his/her wonderful track record and he/she will tell stress on the two most important pillars of achieving a great deal i.e. a strong lead generating technique/system backed up by a diligent follow-up system. Having good leads is, of course, necessary for a successful follow-up. So how does one go about getting quality leads? There are some simple tips that can help you get the best leads.
Tips For Developing Best Quality Sales Leads
Get As Many Referrals As Possible: These referrals can be taken from your existing client base, from friends, from acquaintances or anybody else that matters. The more referrals you have, more the chances of getting serious leads. Sort out these leads & segregate those that show interest in your products/services. Make sure to give extra attention to these leads.
Contact Information: Also make sure to leave your contact number with people you meet during your sales call. Ask them to give your reference to their friends and family in case a need arises in near future.
Get Quality Leads Through Partnership:By partnership here, it means looking out people in the same line of work & sharing almost the same customer base e.g. if your company sells computer software, then you can form a network with the computer vendors around. You can share leads & have a complementary business relationship.
Attend Business Events:Attend events like trade shows, live seminars, expos & other business shows where prospective clients are likely to turn up. Concentrating on such a targeted group ensures that you get quality leads. In case your company can spare some expenses, organizing such events would be a good idea.
A Good & Well Designed Website:This is important as most people are tech-savvy today. Those who are not still log on to the internet regularly. A good website attracts visitors who may get interested in your products/services. This may lead to quality leads, if handled properly. Make sure the website has your contact information on display.
At the end, it is essential to say that your existing clients are best people who can get you some quality leads. So make sure that they are satisfied & their needs (present & future) are efficiently met.
Import Export Trade Leads
Category Tags
1 thoughts on "Tips For Developing Best Quality Sales Leads"