Want To Enhance Business Productivity? Use Email Marketing.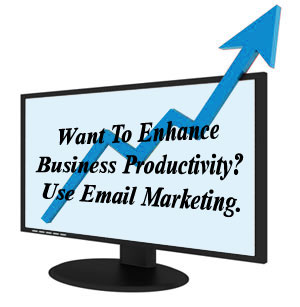 There are many different ways of marketing a business. If you are running a business then you must have also used several ways like direct calling, door-to-door marketing, newspaper and online classifieds, etc. Have you ever thought of marketing your business through email? If no, then this is the time. What exactly is email marketing then? It can be called a form of direct marketing in which businesses use electronic mail as a means of communicating information about their products to their prospective clients. Email marketing is used for the following purposes:
Enhance relationship of business with its current and previous customers and create customer loyalty.

Acquire new customers or influence new customers to buy a newly launched product or service.

Attaching your business advertisements to emails sent by other companies to their customers.
There are certain ways of marketing your products via email. Make sure you use the most effective one.Follow the below mentioned tips and see your business flourish at a faster pace.
Keep in mind that just sending information about a product will not help. Imagine reading the email advertisement about a pen and after ordering the product you realize it was a pencil that the email was talking about. How would you feel if your client faced the same problem? Your business is likely to close down even before it heard the word "profit". Make sure you do a thorough research of your product before sending ads related to it.

Choose a target client list before sending out your email. If you send all the emails at once to different clients then it is likely to end in the spam folder. Do you want your attractive advertisement email to be deleted without being read? Of course you don't. Then it is essential to target the audience who are most likely to buy your product or service.

Make sure your advertisement is attractive and catchy. Imagine receiving a boring looking letter in your inbox only to realize later that it was actually the advertisement of a product or not to realize at all. Would you like your customers to overlook your email thinking it is just another newsletter?
Keep in mind all these factors if you want to advertise your business through email advertisements. There is just a small difference between a good or bad advertisement, but the difference in the outcome of a highly strategic advertisement and a badly implemented advertisement, is colossal.
Category Tags
2 thoughts on "Want To Enhance Business Productivity? Use Email Marketing."
I found your blog on Google and read a few of your other posts. I just added you to my Google News Reader. Keep up the good work. Look forward to reading more from you in the future.

I agree with this post. Email marketing is very important for business, and it is considered as a direct form of marketing. I have watched this videos that teaches how to make Subject Line and content effectively, when to use HTML and Text based content, when and how to send relationship and promotional email, and how often to send email. Thanks for sharing your views on this topic.