5 Simple Ways To Overcome Negative Thoughts In Export Business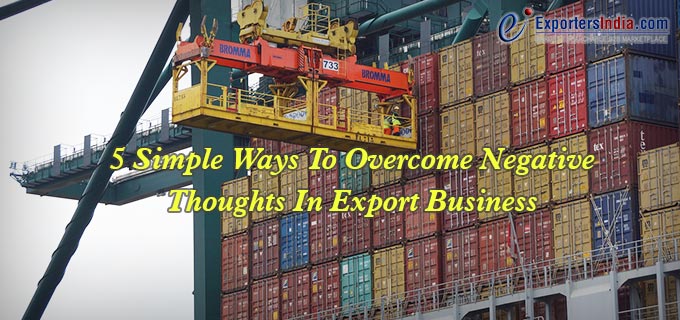 Exports business forms a major part of a country's GDP and has a number of benefits in store for the businesses that trade internationally. However, due to the complications and risks associated with trading in countries with different legal, financial, and cultural systems, many businesses have negative thoughts on undertaking export business. While some businesses refrain from trading internationally altogether, there are others who tend to stop at the first roadblock thrown in their way. Instead of letting the negative thoughts hamper the business, one should weigh these thoughts down against the anticipated benefits of exporting. And this is just one of the many ways you can overcome negative thoughts in your export business. Below, we have compiled a list of 5 simple ways for you to overcome negative thoughts in business.
Know The Steps To Successful Export
When you are unable to follow the streamlined growth path for successful export, it becomes inevitable for negative thoughts to arise. To avoid all these negative thoughts, the businesses should know the steps to successful export. Right from researching, calculating the situation, selecting the product and market to setting the target, finalizing the business plan and deciding sales, you need to follow each and every step to gain success. Reading the export business guide can help you avoid any complications or confusion in your export which are a major reason behind the negative thoughts in the export business.
Understand & Identify The Risk
When trading in the international market, it is imperative that the businesses understand and identify any risk associated with the market and the product they are trading. Every line of trade has some specific risks associated with it. It is important that you identify the risks in your line of trade and find out effective solutions to avoid any negative results. There is always a proven way to mitigate any risk associated with your export business and with prior research and analysis, you can do the same.
Assess & Study The Cultural, Legal & Financial Barriers
Trading within the national borders means you share the same culture and tend to have full knowledge of the legal and financial system. However, while trading with a foreign country, there are a lot of cultural, legal, and financial barriers that you may have to overcome to become successful. These barriers lead to negative thoughts in many exports men. To overcome the negative thoughts associated with the negative thoughts, it is important to assess and study all these barriers before making any trade decision. Ensure you know their culture, have all the documents needed in export business and be well aware of their financial system to avoid any future complications that may give rise to negative thoughts.
Make Forward Exchange Contracts
One of the most common reasons for negative thoughts in export business is the currency fluctuation. The currency of every country tends to fluctuate each day and it is impossible for anyone to predict these changes. The market may turn any time and the businesses might experience a great loss just because the currency was lower or higher than expected. To avoid the negative thought about the currency, you can make foreign exchange contracts with the importing business. Making such contract ensures that you get your price at a specified value on a specified date in future no matter what the current currency value is at that time. This way you do not have to worry about the fluctuations in currency.
Think About The Brighter Prospects
Most of the businesses in the export industry have a number of fears, fear of risks, fear of failure, and fear of extra formalities to name a few. This gives rise to negative thoughts and doubts not just about your export market or products but about getting into the export itself. To avoid such negative thoughts, you should focus more on the brighter prospects that exports business has in store. All the formalities are only there to lessen the risks and when you have attended to the risks, the chances of failure fade out.
Seeing the risks and complications in export business, having negative thoughts is natural. But you need to fight these negative thoughts to emerge victorious in this trade. By following the different ways listed above, you can get rid of the negative thoughts and overcome them for a successful export business.
Category Tags