Ideas for Trade Show Exhibit Booth Themes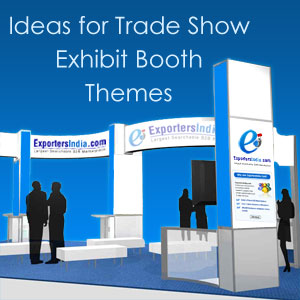 Trade shows act as a platform for companies to display their products where the consumers can interact directly with the company representatives and also have a look at the products displayed. Trade show promotions are an innovative tool used by advertisers to market their products to the clients. Advertisers and event managers need to come up with innovative strategies to promote brands and products to translate them into sales. Trade Show draws interest and attracts crowds, which can even lead to impulsive buying. When the competition is tough, it is the concept and the themes that matter to promote a company. Let's have a glance at themes for trade show's exhibit booths and ways to make them more interesting and eye-catching.
Logo: The logo can be used creatively and repeatedly in the booth to establish the brand image. A stand-alone board can be a useful addition that displays the logo on the board. You can incorporate the logo on the clothing of the company representatives. The tablecloths placed on the table and the banners used, can all display the logo. A logo-based theme will thus help to impress the name of the company on the minds of the viewers
Color-coding: It can be used to successfully brand any company or product. Similar colored jackets or even shirts are a good way of creating a unity and harmony in design. A simple idea such as balloons can also help to make an exhibit booth look interesting.
International themes: You can even plan to have international themes for the trade show exhibit booths which will depend upon the product to be advertised. For instance, a beautiful set that is based on Italy such as a Venice scene with a gondola can be used as the theme.
Local flavor: If the product is known locally and is competing with well-known brands, then the booths can be given a local flavor in terms of design. If there is a festive occasion, it can be incorporated in the design along with important elements from that particular area and slogans written in the local language Trade shows exhibiting booth themes are thus very important for any company in order to connect with the buyers. Make sure you select an appropriate display to make the trade show booth a complete crowd-puller.
Category Tags
24 thoughts on "Ideas for Trade Show Exhibit Booth Themes"