5 Simple Ways to Find New Buyers for Apparel Manufacturing Business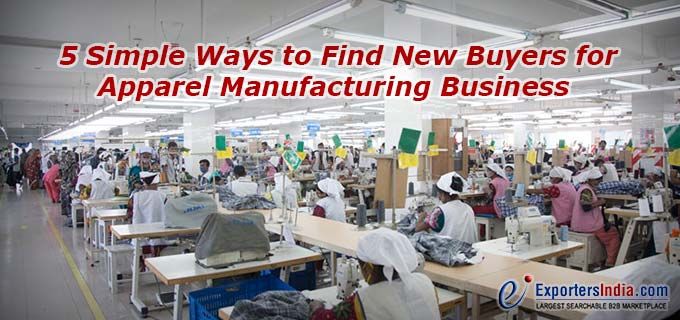 I have been connected with the apparel manufacturing industry for more than a decade now and the only question that I keep hearing time and again with the production of each new collection is, "how to find new buyers for the apparels". With the fabric rates going sky high and the increasing competition in the industry, it has become even more difficult to find apparel buyers. However, this is just the tip of the iceberg! The impossible and impractical prices demanded by the buyers and reduced quantities of purchased goods add to the manufacturer's dilemma.
If you are also in the apparel manufacturing business and can relate to this buyer crisis, sit back and take a sigh of relief. Below I have jotted down 5 simple ways to find new buyers for apparel manufacturing business. So just read on…
Visit Apparel Trade Shows & Events
One of the oldest and most effective ways to find buyers for the apparel manufacturing business is to become a regular visitor at different apparel trade shows and other such events. Buyers visit several trade shows as it provides them a platform to not just meet other industry people like suppliers, retailers etc., but also keep their stocks in line with the latest trends. You can make the most of this opportunity and catch up with the apparels or garments buyers. You can either become an exhibitor at the event or even carry some sample work with you to the events to show the buyers. Visit different trade shows to meet new buyers and don't forget to follow up after the meeting to start healthy business relations.
With the advent of the internet, a number of online facilities came to the fore that allow the manufacturers to connect with different buyers for apparel manufacturing business. There are various online platforms and e-commerce websites where you can easily post your requirements so that the buyers will come to you on their own. You can sing up with these e-commerce portals and showcase your work to find new buyers from different parts of the world. Moreover, social media is also an amazing platform to help you find and connect with different buyers. You can find numerous groups and communities on social media sites like LinkedIn, Facebook etc. By becoming an active participant in these communities, you can find new buyers without much effort.
This is yet another way to find new buyers and purchasers for your apparel products. Every buyer or apparel company is registered and affiliated with a trade association. By joining these trade associations, you can find a softer and quicker approach to reaching out the buyers of that particular region. This works best when you are trying to target a new market. Get listed as a clothing manufacturer with these associations, subscribe to their newsletters to stay informed, and, if possible, liaise with the association management to get details about the buyers. Most of the buyers in the market would be connected with the Ministry of Commerce and Trade of that country. By registering as a manufacturer there, you can open doors to new apparels buyers of that association. For example, by joining the Ministry of Commerce and Industry (India), you can easily find garment buyers in India.
Another great way to find new buyers and companies to sell your manufactured apparels is by exhibiting them at apparel trade fairs. Trade fairs are a great way to promote your new line of products. Many buyers, purchasers, and apparel companies visit the trade fairs to find new manufacturers and stay abreast with the latest fashion trends. If you promote your latest manufactured collection in such trade fairs, buyers will come to your booth and your impressive work can easily fetch you more buyers for the same.
There are various agencies out there that help you find apt buyers for your apparels manufacturing business. These agencies offer dedicated agents for your business who survey your manufacturing unit to ensure that only ethical means are used in the manufacturing business and once they give a green signal, the search for buyers begin. These agents are connected to a number of buyers and understand your apparel type and source new companies as buyers for your business.
Remember, your work does not end with finding buyers for your apparel manufacturing business. You can't let all your efforts in finding buyers get washed away. Once you've found them, keep following up with them to maintain healthy relations for a long-lasting success.
Category Tags