Advantages Of E-Commerce Over Store Retail.
Are you still hooked up to your retail store, when on the other hand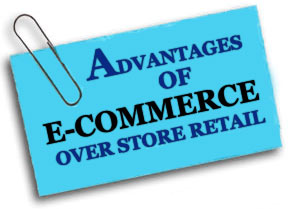 E-commerce has given an entirely new dimension to online business? If yes, then don't waste your more time as its time to give your business an effective online presence. E-commerce has significantly taken over the traditional retail outlets; where on one front retail outlets sales increases slowly and gradually, on the other front E-commerce sales are exploding.
Why E-commerce is better than Store Retail?
E-commerce has made transactions simpler and easier.

It represents your unique corporate identity.

Offers efficient sales promotion.

Efficiently help in Brand building.

Easy payment system: Online payment through payment gateways and shopping carts.

Convenient and affordable to set up an online store.

Remains open 24x7.

Showcases a wide array of products.
As people nowadays are spending more and time online, they tend to get indulged in online shopping as well. This fact can be supported by the data of year 2009, when E-commerce grew by 9%, whereas retail sales witnessed just 2.5% of growth. And out of this 9%, the major share of sales garnered by E-commerce was due to the food and beverage category i.e. 5%. And it is further estimated by the eMarketer that E-commerce will rise up by 13% in 2010.
So, which sector do you think is most preferable for trade these days? If we weigh both the sectors, it is quite apparent that E-commerce is a single handed winner. Therefore, it's time to establish your own online e-commerce store or site and enjoy its various benefits.
Remember to consult an experienced professional or Web Solution Company before setting your ecommerce site.
Category Tags