B2B Portals: Your Gateway To Economical E-Marketing.
The right strategy for an Online Marketing Campaign involves the use of several tools if you want to survive in the face of strong competition. But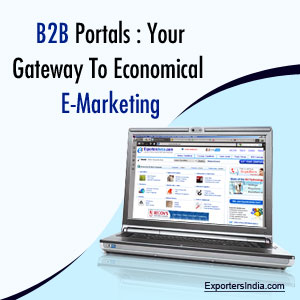 every company has well-defined budgets for online marketing as the costs here often tend to spiral out of control. So in such a scenario, you may be left asking- Is there an economical way of business promotion without burning a hole in my pocket? Fortunately the answer is 'YES'. Out of all the tools available with internet marketers like Search Engine Optimization, Social Media Optimization, E-mail marketing and PP Campaigns etc.; the concept of B2B Portals has emerged as a low-cost technique to reach out to a wider audience. Let's discuss it in detail to know how it works for you.
Registration on B2B portals or directories is a simple process and is also provided free-of-cost by most portals.

Much better than print classifieds, these have a much broader coverage.

B2B portals give you access to the right buyers/sellers from your industry to contact you.

Consuming less time, the B2B portals offer attractive web services apart from the usual perks like:

E-commerce applications.

Enhanced support for integration at a single platform.

Customized services for specific business.

Opportunity for measuring the performance of the marketing campaign.

A complete package of visual and written content is available in an easy to read format that is openly available for viewing time after time.

More interactivity and lesser complexity in selling.

Easy delivery and inventory management.

As compared to print advertising, where even the results are not guaranteed as much, these portals are much more cost-efficient.
It is a proven fact that B2B portals show clear results in the shortest time for the capital invested by the businesses. No wonder then that all types of small, mid and large scale companies are finding it a sure shot way to reach the target audience in an economical way. So, get registered today and see the difference that they can make for your business.
Category Tags
3 thoughts on "B2B Portals: Your Gateway To Economical E-Marketing."
Yes, you are absolutely right, the b2b portal is the Gateway to economical E-Marketing.

Pretty nice post. I just stumbled upon your blog and wished to say that I've truly enjoyed surfing around your blog posts. In any case Iíll be subscribing to your rss feed and I hope you write again soon!

I absolutely love your blog and find almost all of your post's to be precisely what I'm looking for. Again, awesome blog!