How To Write A Great Small Business Ad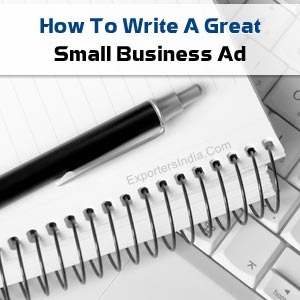 Every business needs advertisement, be it a small venture or a big empire. Advertisement is the key drive to establish a business, its brand and off course to generate clients. Business Advertising is an art and if done appropriately it brings prosperous prospects whereas any slip-up in the same may spread bad impression in market along with wastage of money invested. Advertising a business starts with wetting a business ad. Following below mentioned steps may help you to write best business ad for your company. Let's begin:
1. Collect all the materials like paper, pen, key information and your business plan.
2. Analyse your business plan and target audience.
3. Before your start writing, understand that this business ad is sales and it would be one important drive to drag clients for your product.
4. The write up has to be as short and crisp as possible. Write succinctly because people do not prefer to entertain big contents.
5. Add selling adjectives in your content. Words like "best" and "Great" are recurrently used, yet are most successful to catch attention. Explore more similar words, which suit well with the theme of your ad.
6. Ensure that despite of these adjectives your ad should not mislead people, means it should be honest.
7. Highlight benefits of your offer. Present these benefits in such a way that hit the need of client.
8. Add attraction like "Free sample". "Trail offer", "Money-back guarantee".
9. Adding graphics, diagram and pictorial presentation would ease onlookers to understand the offer.
10. Now review and check the final ad. Get feedbacks from your colleagues, friends and family and consider suggestions. Now it's time to shoot the ad, and do remember, shoot it at right time i.e. analyse its relevance with the current trend, market situation, business forecast etc. We hope that all these points would help you to create an effective business ad.
Category Tags
6 thoughts on "How To Write A Great Small Business Ad"