Small Business Classifieds: A Boon For Your Business.
Small Business Classifieds are the short yet powerful means of gaining a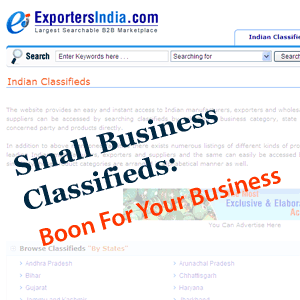 good number of precious leads for your business. Though they may look simple in comparison to expensive advertisements but they have the potential to have a much wider reach and attract relevant prospects. If used properly then Small Business Classifieds are an inexpensive way of generating sales and can take a small business to greater heights while enabling bigger companies to have fresh leads.
People who go through the Small Business Classifieds are already aware of their wants and are looking for a particular section that gives them enough options to choose from. Although it places you in an advantageous position for target marketing, it also puts you in danger of being outmaneuvered by other companies who have placed a better ad than yours.
Writing a good Small Business Classified is also beneficial if you want to have quality leads and to avoid getting huge number of irrelevant inquiries that do not translate into sales. Also, your ad should not contain any false promises or claims to mislead buyers.
A Small Business Classified Ad needs to create an immediate impact since it competes against hundreds for attention. Including attractive words like: 'right now', 'new', 'free', 'bargain', 'save' etc. are a sure shot way of creating attention. But make sure that your Ad has relevant words within the first line itself, to maximize the effect.
Some Important Points to Remember:
Two things are necessary to have a Small Business Classified of high quality- have an experienced person write it and observing the advertising style of your thriving competitors.

After placing active marketing words in your ad, make sure that even in a short and concise text you are able to convince the buyer about the legitimacy and reliability of your products. Including the benefits of the product makes it have a buyer's perspective as opposed to writing its features.

Include contact details visibly and if there are direct sales involved, do not forget to mention the price. If you have a website then mention the address as it will direct the readers to information that could not be fitted into the advertisement.

It is widely proven that any advertisement that appeals to the emotions of the buyers gives definite results. If you can create this magic in your Small Classified Ad then it can work wonders. Most companies do not realize this and resort to cheap ads that have little value.
Here is a sample of how a small advertisement can generate interest in a buyer who is looking for Used Cars.
Looking for best Cars at half the price? 'ABC' has the largest Used-Car collection that has the finest models with a 'brand new' look. Fulfill the dream of having your own Car that combines luxury and economy in one great offer of a lifetime. We have hundreds of brands and models to choose from that are within your budget, just call us on the below mentioned numbers to get your hands on the best car bargains-right now!
The beauty of Small Business Classifieds is that even the smallest ads that need little investment can generate many leads over a long time span. While they continue being published in newspapers or online business directories, they can provide you with the much needed attention in the fierce market where every company is vying for the attention of the prospective buyers.
Category Tags
2 thoughts on "Small Business Classifieds: A Boon For Your Business."
Wow! This can be one particular of the most beneficial blogs We have ever arrive across on this subject. Basically Magnificent.

I am undeniably thankful to you for providing us with this invaluable critical info. My spouse and I are unquestionably grateful, entirely the computer data we needed.