Distinguishing Between An International Trading Company And An International Sourcing Company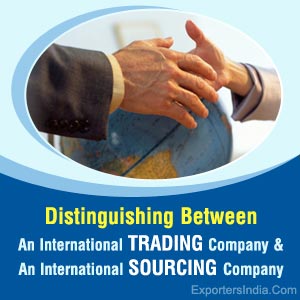 Through Import and export, man has explored new lands and familiarized himself with new cultures and products. It even has an indispensable role in history! So it is quite obvious that as time progressed, this age old practice has also evolved. In this global age, Import and Export has expanded into all the corners of the world and so it is certainly rewarding to keep yourself updated on the latest trends in the markets.
Ever browsed through business articles and found yourself mystified by the terms "International trading company" and "International sourcing company"? At first appearance they may appear quite similar, but are in fact functionally different. Read on to find out what sets the two apart.
Type Of Business
A trading company is essentially a wholesaler, and does not sell goods or services on demand. They research the current and future trends in the market to locate a sector best suited to their expertise. Detailed plans are set in motion that outlines the promotion of their stocks, potential targets and the strategies to attract new businesses. A sourcing company, on the other hand, surveys places overseas that are suited for the client-specific products. They offer management strategies and solutions to guide the clients.
Area Of Operation
A trading company operates in specific areas like food, cosmetics, sports etc. Though these companies may expand the product range, they rarely change the domain. Customers are related by the products and categorized on details like occupation, age, social class, gender etc. Their services are personalized on an International level. A sourcing company does not restrict itself to a specialty or client categories. These companies form collaborations for long or short terms. They take on regular or occasional orders.
Location
Trading companies do not confine themselves to one country. They have a profit oriented motive to products their goods. For promoting "low cost", they engage skilled employees and market experts or employ a sourcing company. Sourcing companies are located in places where the raw materials and labor is cheap. This offers them advantage in choice of suppliers and negotiations. Agents help them locate a suitable supplier who can meet the requirements. The companies keep close watch to ensure that the products meet the specifications of the clients. They also take care of the moving procedures. In a world where business and economics are talk of the day, it is important to equip yourself with information that can help you get an edge over others. So, the next time you come across these two terms, you will be able to figure out the distinction clearly and choose the right partner for trading or sourcing needs.
Category Tags
2 thoughts on "Distinguishing Between An International Trading Company And An International Sourcing Company"
I like what you guys are usually up too. This kind of clever work and reporting, Keep up the very good works guys I have incorporated you guys to my personal blogroll.

I feel this is among the most significant info for me. And i'm satisfied reading your article.