Grow Your Business With B2B Portals
Are you looking forward to grow your business through internet and still not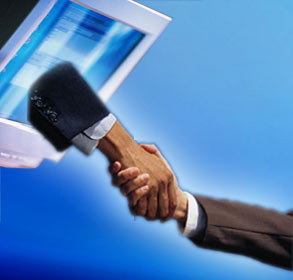 aware of the existence of B2B marketplace? Then you are missing out on a great opportunity of extending roots of your business to the global market and taking your business to the next level of success. No matter whether your business is small or big, B2B marketplaces prove to be an effective medium of business expansion.
What is a B2B portal?
Before going ahead with the topic it is necessary to understand what exactly B2B stands for. In simple terms B2B refers to an online business platform where buyers and sellers from every corner of the world come together for carrying out productive business transactions. The main concern of such B2B portals is to provide venue to the businesses for participating in online business processes.
Benefits of B2B Portals for Buyers and Sellers
B2B portals ensure to provide maximum benefits to the buyers, sellers, service providers and other participants in terms of cost and productivity. Some of the key benefits of joining a B2B portal are:
1. Automates the procedure of purchase
With the help of B2B portals buyers can instantly contact the supplier for requesting quotes, receiving quotes, sending purchase orders, etc. With this you not only save transaction processing cost but also bring efficiency to your business.
2. Reduces the time cycle required for sourcing
B2B portals allow you to make your own choice as there are numerous suppliers and send your purchase order in a just a single click. You also get instant access to the answers, quotes, invoices, etc. that you have received against the purchase order. This also reduces your time required for processing the documents.
3. Instant access to product information
B2B portals provide customers an instant access to get updated information about the products and services they are searching for. Online catalogs are the best source of gathering information about the offerings.
4. Develops new sales channel
Once you become a part of B2B portal, you open gates for low cost sales channel for your business, which is highly functional and appealing to the customers. You get to expose your business to the new audience and target consumers in a more efficient manner.
5. Efficient information sharing platform
The best feature of a B2B portal is that you can instantly update the information about your offerings without shelling much from your pocket. B2B portal also helps you in sharing the information about newly launched products.
6. Improved customer service
The constant interaction with customers provided by B2B portals play a significant role in serving your customers efficaciously. Easy tracking of all the processes of supply chain from order processing to delivery and payment brings efficiency to your customer service.
Through this write-up, we have tried to bring forth some of the key benefits of B2B portals that will help your business grow in an effective manner. We hope that now you have understood how advantageous it is to be a part of a B2B portal in order to acheive unparallel growth of your business.
Category Tags
1 thoughts on "Grow Your Business With B2B Portals"
Thanks for the strategies presented. One thing I also believe is the fact credit cards supplying a 0% apr often bait consumers in with zero interest, instant authorization and easy over-the-internet balance transfers, however beware of the number one factor that will probably void that 0% easy neighborhood annual percentage rate as well as throw anybody out into the bad house quickly.